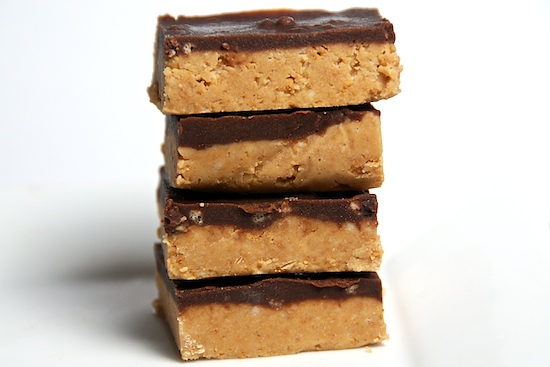 My cousin Greg from DC stayed with us last night.  It was great to see him.   When we have company, what's one of the first things that I think of?   Dessert!   I must have enough dessert to feed the guests!   He arrived last night and finished up the Cookie Dough Brownies that I made the other night, so I knew I needed to make something else. After we had dinner, he went out to meet an old college friend for drinks and that was my opportunity to try a new recipe.
I LOVE Reese's Peanut Butter Cups, and this recipe produces an unbelievable tray of them in bar form.  They're really decadent, but incredibly good.  I really enjoyed the fact that this is a no-bake recipe.  It's perfect for the summertime when you don't want to turn on the oven.
I'm including the recipe as I found it on the Internet.  I made a few changes though.    Instead of using chocolate chips, I used a Russell Stover crispy chocolate Easter bunny (milk chocolate) that we had left over from the boys' Easter baskets.   It was only a 3 oz. bunny, so I added a handful of chocolate chips and melted them both together.  Yum.  I think the milk chocolate made the final product taste more like its namesake.
Using a pizza cutter is a brilliant way to cut these bars after they've chilled.   The edges were nice and straight and they cut very smoothly.   You can store these in either the refrigerator or the freezer.   I just ate one right out of the freezer and it was delicious.   They're really just like Reese's Peanut Butter Cups.    Really.
All four boys loved the bars, which surprised me because one of the boys has claimed for years that he doesn't like peanut butter. Go figure.
Peanut Butter Cup Bars
Recipe from Michelle at One Ordinary Day


1/2 cup butter
1 3/4 cups confectioner's sugar
1 cup peanut butter
3/4 cup graham cracker crumbs
1/4 cup butter
1/2 cup semi-sweet chocolate chips

(Line a 8×8, 9×9, or 7×11 pan with foil for easy removal of bars later.)

Melt 1/2 c. butter of low heat. Remove from heat and stir in confectioner's sugar. Add peanut butter and graham cracker crumbs, stirring until creamy. Spread mixture into pan, patting down evenly.

In same pot, on low heat, melt butter. Add chocolate chips and stir until chips are nearly melted and very soft. Remove from heat and continue stirring until chocolate is smooth and shiny. Spread over peanut butter layer. Refrigerate for 30 minutes. Cut into bars.

Store peanut butter cup bars in refrigerator.

Yield:  16 or more bars (depending upon how big you cut them)

Print This Recipe