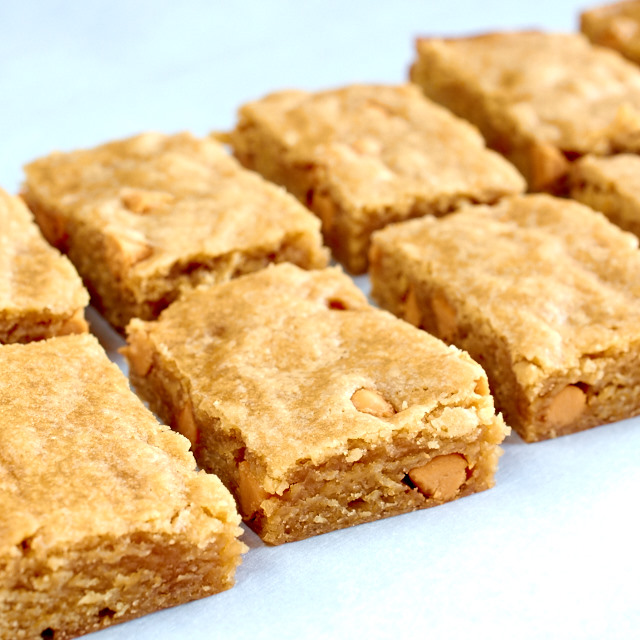 I made these the other day to bring to a PTA meeting and got great feedback about them. I must warn you that they taste a little boozy. You can definitely taste the bourbon. Not all of it burns off in the baking. I really liked the flavor. This is definitely an adult dessert due to the traces of bourbon left in the bars.
These are really easy to make, and they're quick too. The resulting blondie is nice a chewy. Do you best to not overcook them. If you don't have a bottle of bourbon on hand, you can buy one of the airline-sized bottles and that should suffice. Those little bottles typically contain 50 ml of liquid, and that's just shy of 1/4 cup.
I found these to be rich, so if you're making them for a party, you can cut them into small pieces, perhaps 1.5″ x 1.5″.
Butterscotch-Bourbon Blondies
Recipe from FoodNetwork.com courtesy of Duff Goldman

Cooking spray
1 1/2 cups all-purpose flour
3/4 teaspoon baking powder
1/2 teaspoon kosher salt
1 stick (1/2 cup) butter, softened
3/4 cup butterscotch chips
3/4 cup lightly packed light brown sugar
1 extra-large egg
1/2 teaspoon pure vanilla extract
1/4 cup bourbon

Preheat the oven to 350 degrees F and spray a 9-inch square baking pan with cooking spray or butter it generously. For ease, I recommend lining the pan with parchment paper and spraying that too.

In a medium bowl, whisk the flour, baking powder and salt.

In a small saucepan over medium heat, melt the butter and 1/4 cup of the butterscotch chips until the mixture is smooth. Transfer it to the bowl of a stand mixer.

Beat the brown sugar into the butter mixture, then the egg. Add the vanilla and bourbon and beat until combined. Add the flour mixture and beat until incorporated. Stir in the remaining 1/2 cup butterscotch chips.

Spread the batter into the prepared pan and bake for 20 to 25 minutes, or until a toothpick inserted into the center comes out with not too much stuck to it. Let cool before cutting.

One year ago: Mini Churros
Two years ago: Broccoli, Cheddar and Wild Rice Casserole
Three years ago: Meyer Lemon Gelato
Four years ago: Sweet Potato and Quinoa Salad
Five years ago: Alfajores
Six years ago: Pineapple and Meyer Lemon Sorbet
Seven years ago: Peanut Butter Cookies
Eight years ago: Smashed Sweet Potatoes

Print This Recipe