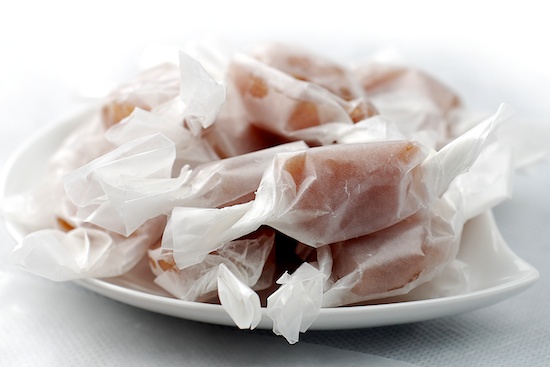 I love homemade caramels. The kind they sometimes give you after dinner at a fancy restaurant.
I have only ever made these before, and they're delicious, but these apple cider caramels are incredible. I love the concentrated apple flavor, and the slight saltiness. I truly have never tasted anything like them. I'd love it if a restaurant gave me a couple of these after a nice dinner.
If you have a candy thermometer, these are surprisingly easy to make. They take a little time because you have to boil the apple cider for about 40 minutes, until it is reduced to a nice syrupy state, but once that's done, the rest is fairly easy.
I've made these once already, and will make another batch very soon. This is apple cider season, so grab some at your farmer's market or in the supermarket (make sure it's apple cider and not apple juice.)
Apple Cider Caramels
Recipe from the Smitten Kitchen Cookbook

4 cups apple cider
1/2 teaspoon ground cinnamon
2 teaspoons flaky sea salt, such as Maldon (if you don't have sea salt, use less of a more finely ground salt)
8 tablespoons unsalted butter, cut into chunks
1 cup granulated sugar
1/2 cup packed light brown sugar
1/3 cup heavy cream
Neutral oil for the knife (e.g. canola oil)

Boil the apple cider in a 3- to- 4- quart saucepan over high heat until it is reduced to a dark, thick syrup, between 1/3 and 1/2 cup in volume. This takes about 40 minutes. Stir occasionally.

Meanwhile, line up the rest of your ingredients. Line the bottom and sides of an 8- inch straight- sided square metal baking pan with 2 long sheets of crisscrossed parchment. Set it aside. Stir the cinnamon and flaky salt together in a small dish.

Once you are finished reducing the apple cider, remove it from the heat and stir in the butter, sugars, and heavy cream. Return the pot to medium- high heat with a candy thermometer attached to the side, and let it boil until the thermometer reads 252 degrees, only about 5 minutes. Keep a close eye on it.

If you don't have a candy thermometer, have a bowl of very cold water ready, and cook the caramel until a tiny bit dropped into the water becomes firm, chewy, and able to be plied into a ball.)

Immediately remove caramel from heat, add the cinnamon- salt mixture, and give the caramel several stirs to distribute it evenly. Pour caramel into the prepared pan. Let it sit until cool and firm—about 2 hours, or less time in the refrigerator. Once caramel is firm, use your parchment paper to transfer the block to a cutting board. Use a well- oiled knife, oiling it after each cut (don't skip this!), to cut the caramel into 1-by-1-inch squares. Wrap each one in a 4-inch square of waxed paper, twisting the sides to close. Caramels will be somewhat on the soft side at room temperature, and chewy/firm from the fridge.

Yield: 64 caramels

One year ago: Cornmeal Crusted Tofu
Two years ago: Cinnamon Sugar Biscotti
Three years ago: No Knead Bread
Four years ago: Broccoli Salad

Print This Recipe