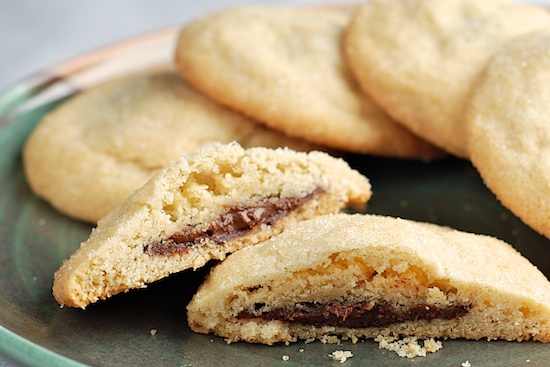 These cookies got a double thumbs up from three out of four of the boys. The pickiest of our eaters doesn't like Nutella, so he wouldn't even try one. I have to say that Nutella is an acquired taste for me. I didn't love it as a child either, but I have come to really enjoy it in baked goods. It's also good nestled in a wonton wrapper, fried in a little canola oil and dipped in a mixture of cinnamon and sugar. I'll have to photograph that dessert one of these days.
In addition to making great Nutella-stuffed cookies, the batter makes a nice sugar cookie as well. I made some plain sugar cookies for the son who doesn't like Nutella.
These cookies became the hit of the school lunch room. My sons got a cookie in their lunchboxes for dessert this week and soon they were requesting two and three cookies so they could share them with friends who were apparently drooling as my boys were eating them.
The picture below is of this great glass-domed cake plate that my sister Lauren gave me for Christmas.   It sits on the counter in our kitchen and it's often filled with something good to eat.   It's one of my favorite gifts that I received for Christmas.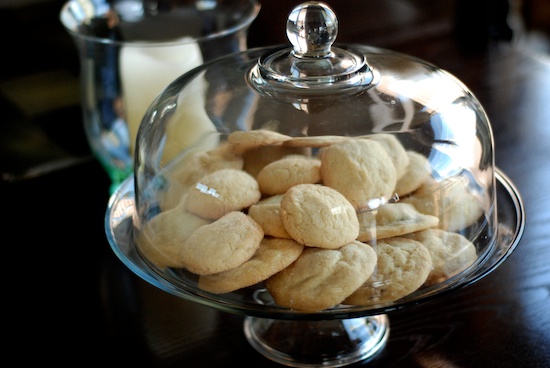 Sugar Cookies with Nutella and Sea Salt
Recipe adapted slightly from Cookin' Canuck

1/2 cup Nutella (chocolate-hazelnut spread)
2 1/2 cups all-purpose flour
1/2 teaspoon baking powder
1/2 teaspoon salt
1 1/2 cups plus 1/3 cup granulated sugar, divided
14 tbsp (1 3/4 sticks) unsalted butter, softened
2 large eggs
2 tsp vanilla extract
1 tbsp sea salt (I used Malden which has nice big flakes)

Using a 1 teaspoon measure, scoop out Nutella and place in small mounds on a cookie sheet lined with parchment paper. Place the sheet in the freezer for at least 15 minutes or until you're ready to fill the cookies.

Preheat the oven to 350 degrees F. Line 2 large baking sheets with parchment paper.

In a medium bowl, whisk together flour, baking powder, and salt.

In a large bowl, beat butter and 1 1/2 cups granulated sugar with an electric mixer set on medium speed until the mixture is fluffy, 3 to 5 minutes. Beat in the eggs, one at a time, and then the vanilla extract.

Turn the mixer to low speed and gradually beat in the flour mixture until it is just combined but be sure that all of the flour is incorporated.

Place 1/3 cup granulated sugar in a small bowl.

Now for the cookie assembly.  You'll need 2 tablespoons of cookie dough for each cookie. Take one tablespoon of dough and flatten it slightly between your hands and put it on the cookie sheet. Put 5 or 6 grains of sea salt on the dough. Take one of the Nutella blobs from the freezer and put it on the flattened dough.  (I left my tray of Nutella blobs in the freezer the whole time and took blobs as I needed them.)  Take another tablespoon of dough, slightly flatten it and place it on top of the Nutella. If the dough is not too sticky, seal the dough with your fingers.   Repeat this for a tray full of cookies, placing the cookies 2 inches apart. I found that I created the cookie piles (a bottom layer, some salt, a mound of Nutella, then a top layer), then had to put the whole cookie sheet into the freezer for about 15 minutes in order to get the dough to be firm enough so I could seal it around the Nutella. Once all of the cookies are sealed, roll them in the bowl of sugar and place them back on the baking sheet 2 inches apart.

Bake the cookies, one sheet a time, rotating the cookie sheet halfway through baking. They are done when the edges are set and beginning to brown, 10 to 13 minutes. The centers of the cookies should still be soft and puffy.

Remove the cookies from the oven and let them cool on the baking sheet for ~10 minutes. Using a spatula, remove the cookies from the baking sheet and let them finish cooling on a rack.

Yield: ~24 cookies

One year ago: Chocolate and Meringue Angel Pie
Two years ago: Pad Thai with Chicken and Shrimp
Three years ago: Sweet Potato Muffins
Four years ago: Quick Vanilla Buttercream Frosting

Print This Recipe