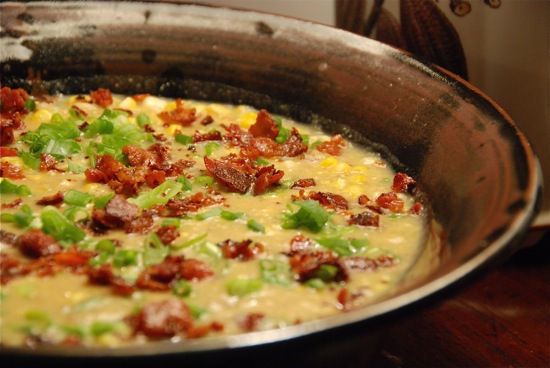 I received a jalapeno pepper from the CSA last weekend and I didn't know what to do with it until I came across this recipe.   There's a farm stand very close to our house, so I was able to get 5 beautiful ears of fresh corn to go in the soup.   There's nothing like fresh vegetables in the summer.
I made this last night and I think it rivals this salad for being my favorite new recipe of the summer. It was easy to throw together and it was really delicious. It took a little bit of time to get the corn ready and chop all the vegetables, but it was worth it. We polished it off last night and I wished I had doubled the recipe. I might make another pot tonight.
I substituted half & half for the heavy cream because that's all I had in the house.   I also used red potatoes in lieu of the Yukon Gold.
Summer Corn Chowder with Scallions, Bacon and Potatoes
Recipe from Fine Cooking, September 2007

5 ears fresh corn
7 oz. scallions (about 20 medium)
3 slices bacon, cut into 1/2-inch pieces
1 Tbs. unsalted butter
1 jalapeño, cored, seeded, and finely diced
1 tsp. kosher salt; more to taste
Freshly ground black pepper
3-1/2 cups low-salt chicken broth
1 large Yukon Gold potato (8 to 9 oz.), peeled and cut into 1/2-inch dice (about 1-1/2 cups)
1-1/2 tsp. chopped fresh thyme
2 Tbs. heavy cream

Husk the corn and cut off the kernels. Reserve two of the corn cobs and discard the others. Trim and thinly slice the scallions, keeping the dark-green parts separate from the white and light-green parts.

Cook the bacon in a 3- or 4-qt. saucepan over medium heat until browned and crisp, about 5 minutes. With a slotted spoon, transfer the bacon to a paper-towel-lined plate. Pour off and discard all but about 1 Tbs. of the bacon fat. Return the pan to medium heat and add the butter. When the butter is melted, add the white and light-green scallions and the jalapeño, salt, and a few grinds of black pepper. Cook, stirring, until the scallions are very soft, about 3 min.

Add the broth, corn, corn cobs, potatoes, and thyme and bring to a boil over medium-high heat. Reduce the heat to medium low and simmer until the potatoes are completely tender, about 15 min. Discard the corn cobs.

Transfer 1 cup of the broth and vegetables to a blender and puree. Return the puree to the pot and stir in the cream and all but 1/3 cup of the scallion greens. Simmer, stirring occasionally, for a couple of minutes to wilt the scallions and blend the flavors. Season to taste with salt and pepper and serve sprinkled with the bacon and reserved scallions.

Yield:  6 servings

Print This Recipe