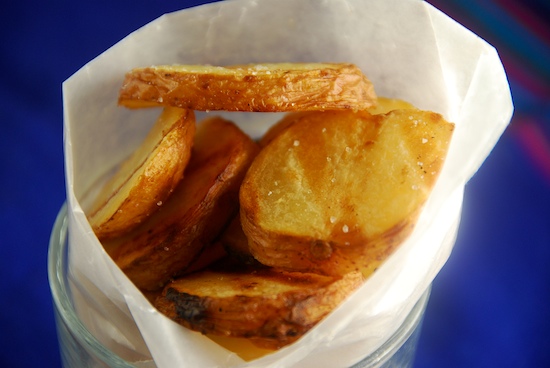 If you like salt and vinegar potato chips and you have a barbecue, this recipe is for you.   These potatoes have a real vinegary bite to them.   They're perfect for serving with grilled fish or chicken.
I love to grill as much as I can in the summer.  It's just so easy – much easier than cooking in a Manhattan apartment kitchen.   I grill a lot of vegetables, but I've never grilled potatoes before.   What a quick and easy way to cook them!
Next time I try these, I might try a flavored vinegar – perhaps champagne, perhaps apple cider – the possibilities are endless.
Grilled Potato Slices with Salt and Vinegar
Recipe from Martha Stewart Living, June 2009


1 pound potatoes, preferably fingerling, cut lengthwise into 1/4-inch-thick slices (I used baby new red potatoes)
2 cups white vinegar
2 tablespoons extra-virgin olive oil
1 1/2 teaspoons coarse salt, plus more for sprinkling
1/4 teaspoon freshly ground pepper

Bring potatoes and vinegar to a boil in a medium saucepan (vinegar should cover potatoes). Reduce heat to medium-low, and simmer potatoes until just fork tender, about 5 minutes. Let potatoes cool in vinegar for 30 minutes. Drain well, and gently toss with oil, salt, and pepper.

Preheat grill to medium-high. Grill potatoes in a single layer until browned on both sides and cooked through, about 5 minutes per side. Sprinkle with salt before serving.
Yield:  4 servings

Print This Recipe