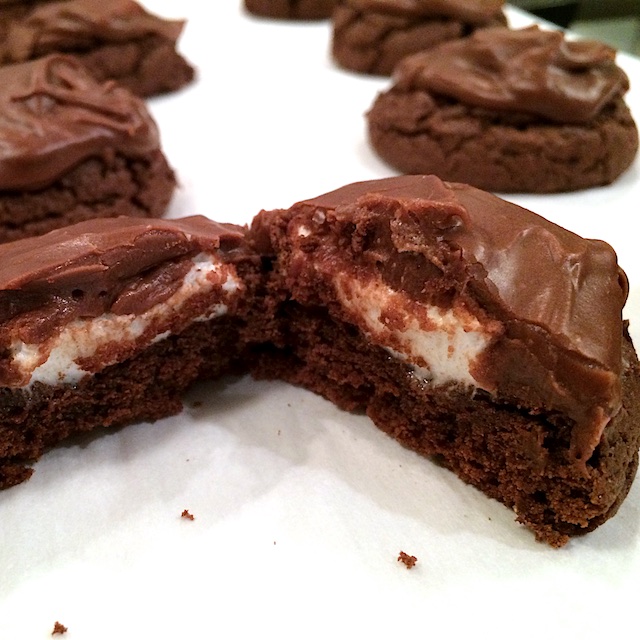 The boys are off for spring break, so we spent some time on Shelter Island where I have a single cookbook, Martha Stewart's Cookies. I wanted to make the boys a treat to eat during our movie night, so I perused the book. The boys love marshmallows, and so do I, so this cookie was the winner. It reminded me of one of my all-time favorite cookies, the Mallomar. I keep Malomars in the freezer because they're great frozen.
Of course the boys didn't like the delicious mashed potatoes I made for dinner the other night. I'll definitely make them again – the addition of smoked gouda made them really tasty and creamy. They didn't like the shaved brussels sprouts salad, quinoa salad or slow-roasted chicken either, all of which I thought were delicious. Instead, one ate a peanut butter sandwich, another had plain, pan-fried tofu, another had a slice of cheese quiche and the fourth had a breaded chicken breast and some peas. Nice.
Back to the cookies. Of course the boys loved these cookies. They're big fans of chocolate and marshmallow, as am I. The cookie part of this recipe isn't terribly sweet, but the marshmallow and frosting sweeten it right up. The boys have already asked me to make them another tray of these.
If you compare my cookie photo to Martha Stewart's you'll notice that she doesn't have a single bit of chocolate on her marshmallow. I cut a couple of cookies, had my frosting smear on the marshmallow each time and decided to give up. Now that I look more closely at Martha's photograph, I see that she cut her cookie before she frosted it! She added the frosting after the cookie was cut in half, making her photo look much nicer. Ah, the tricks that food photographers use.
Surprise Cookies
Recipe from MarthaStewart.com

Cookies:
1 3/4 cups all-purpose flour
3/4 cup cocoa powder
1/2 teaspoon baking soda
1/2 teaspoon salt
1/2 cup (1 stick) unsalted butter, softened
1 cup sugar
1 large egg
1/2 cup milk
1 teaspoon pure vanilla extract
~14 large marshmallows, cut in half horizontally

Frosting:
2 cups confectioners' sugar
4 tablespoons (1/2 stick) unsalted butter, melted and cooled
1/4 cup cocoa powder
1/4 cup milk
1/4 teaspoon pure vanilla extract

Preheat oven to 375 degrees F. In a medium bowl, whisk together flour, cocoa powder, baking soda, and salt; set aside.

In the bowl of an electric mixer fitted with the paddle attachment, cream together butter and sugar until light and fluffy, about 2 minutes. Add egg, milk, and vanilla, and beat until well combined. Add reserved flour mixture; mix on low speed until combined.

Using a tablespoon or 1 3/4-inch ice cream scoop, drop dough onto ungreased baking sheets, about 2 inches apart. Bake until cookies begin to spread and become firm, 10 to 12 minutes.

Remove baking sheets from oven, and place a marshmallow, cut-side down, in the center of each cookie, pressing down slightly. Return to oven, and continue baking until marshmallows begin to melt, 2 to 2 1/2 minutes. Transfer cookies to a wire rack to cool completely before frosting.

Meanwhile, make the frosting. Place confectioners' sugar in a medium bowl. Whisk in melted butter and cocoa powder. Add milk and vanilla, and whisk until well combined.

Spread about 1 tablespoon of frosting over each marshmallow, starting in the center and continuing outward until marshmallow is covered.

Yield: ~28 cookies

One year ago: Orange-Glazed Shrimp
Two years ago: Macaroni and Cheese with Black Beans and Chipotle
Three years ago: Oreo Rice Krispie Treats
Four years ago: Homemade Cheez-It Crackers
Five years ago: Breakfast Tart with Pancetta and Green Onions
Six years ago: Banana Oatmeal Chocolate Chip Cookies
Seven years ago: Oatmeal Cranberry Cookies

Print This Recipe