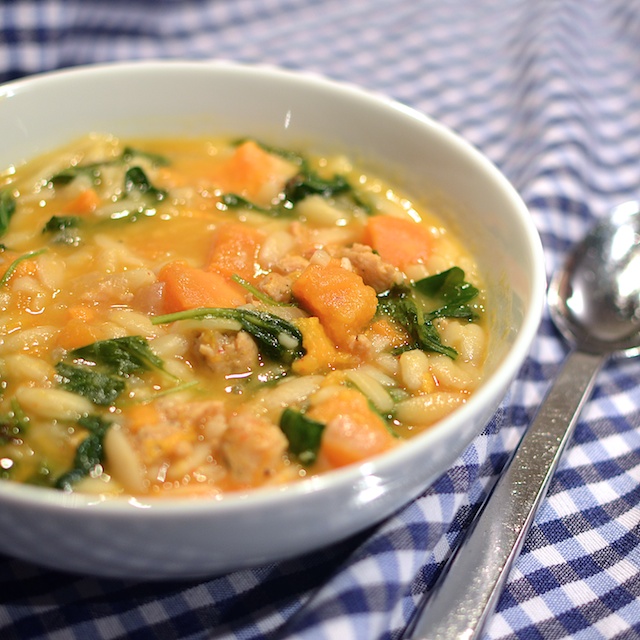 This soup is delicious, incredibly satisfying and really quick to make. It's definitely something that can be made on a weeknight and served with a nice loaf of rustic bread. Since the boys wouldn't go near it (nothing new there), we had some soup left over and I actually thought it was better on the second day. The orzo absorbed more moisture overnight and it ended up like a thick stew, which is something I love on a cold night.
The original recipe called for sweet Italian sausage. I prefer chicken or turkey sausage to pork sausage, so I picked up a package of chicken-sundried tomato sausage from Trader Joe's. It was perfect for this soup. Any kind of sausage will do though. While in Trader Joe's, I picked up two packages of their Mighty Greens salad mix which is a combination of swiss chard, spinach and kale. It saved me some chopping. I was able to just dump the bags right into the pot of soup.
This recipe is definitely a keeper and is going into our regular meal rotation.
Sweet Potato-Sausage Soup
Recipe from Martha Stewart

1 tablespoon olive oil
1 large yellow onion, diced large
2 cloves garlic, minced
Salt and pepper
1 pound raw sausage, casings removed (I used chicken/sundried tomato sausage from Trader Joe's. You can also use sweet Italian sausage)
2 sweet potatoes (~1 pound total), peeled and medium diced
4 cups chicken broth
3/4 cup orzo
4 cups roughly chopped mixed greens, such as kale and Swiss chard
Grated Parmesan, for serving

In a large pot, heat oil over medium-high. Add onion and garlic and cook until onion is translucent, about 6 minutes; season with salt and pepper. Add sausage and cook, breaking up meat with a wooden spoon, until browned, about 5 minutes.

Add sweet potatoes, broth, and 2 cups water and bring to a boil. Add pasta and cook 3 minutes less than package instructions. Reduce to a simmer, add greens, and cook until pasta is tender and greens are wilted, 4 minutes. Serve with Parmesan.

Yield: 6 servings


One year ago: Frosted Sugar Cookies
Two years ago: Ice Cream Cone Cupcakes
Three years ago: Honey Mustard Salad Dressing
Four years ago: Chocolate Dipped Meringue Cookies
Five years ago: Peppermint Brownies

Print This Recipe