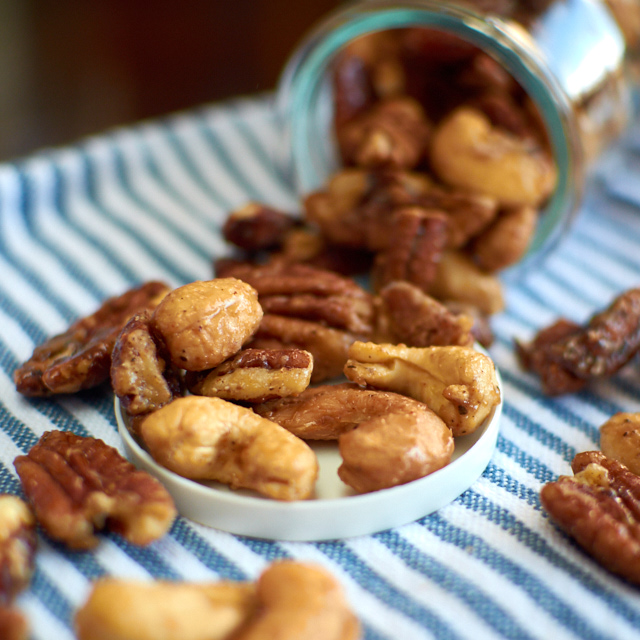 This is a basic spiced nuts recipe that you can modify to your heart's content. You can mix up the spices as well as the kinds of nuts that you use. I didn't have any walnuts, so I made mine without. I made sure I added extra cashews, pecans and almonds so the total quantity was 4 cups. I also used salted cashews (the recipe calls for unsalted), because that's what I had on hand.
Around the holidays, I make lots of these spiced nuts, which are incredibly delicious and make your house smell like Christmas when you're baking them. I love them, but they're a sweet, spiced nut. When I found this recipe, I was looking for a more savory spiced nut to serve at a dinner party. These nuts fit the bill perfectly. They have a nice combination of savory spices with a hint of sweetness that's not overwhelming. I tossed in a couple of shakes of smoked paprika because I enjoy that smoky flavor. You can play with the spices and add whatever you want. If you like things a little spicier, add more cayenne. I liked the sheen that these nuts get when they're tossed and cooked with the melted sugar.
These nuts are perfect for a dinner party or for just snacking. It's hard to eat just one.
Sweet, Salty, Spicy Party Nuts
Recipe from Chef John at Food.Com

1 cup walnut halves
1 cup pecan halves
1 cup unsalted almonds
1 cup unsalted, dry roasted cashews
1 teaspoon salt
1/2 teaspoon freshly ground black pepper
1/4 teaspoon ground cumin
1/4 teaspoon cayenne pepper
1/2 cup white sugar
1/4 cup water
1 tablespoon butter
Cooking spray

Preheat oven to 350 degrees F (175 degrees C). Line a baking sheet with a Silpat liner, or parchment paper. If you use parchment, spray it lightly with cooking spray.

Combine all of the nuts in a large bowl. Add salt, black pepper, cumin, and cayenne pepper; toss to coat.

Heat sugar, water, and butter in a small saucepan over medium heat until the butter is melted. Cook for 1 minute and remove from heat. Slowly pour butter mixture over the bowl of nuts and stir to coat.

Transfer nuts to the prepared baking sheet and spread into a single layer.

Bake nuts in the preheated oven for 10 minutes. Stir nuts until the warm syrup coats every nut. Spread into a single layer, return to the oven, and bake until nuts are sticky and roasted, about 6 minutes. Allow to cool before serving.

Yield: 4 cups of spiced nuts

One year ago: Oatmeal Scotchies
Two years ago: Lemon Herb Quinoa with Spring Peas and Basil
Three years ago: Cinnamon Streusel Baked French Toast Sticks
Four years ago: Coconut Bread
Five years ago: Salted Chocolate Caramel Cookie Bars
Six years ago: Spanakopita Lasagna
Seven years ago: Chocolate Chip Waffles
Eight years ago: Chive Risotto Cakes
Nine years ago: Cheddar Corn Chowder

Print This Recipe