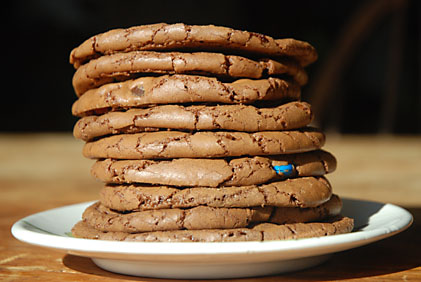 Last night I was in the mood to bake so I fished around through some recipes that I had bookmarked and I found this one.    I love chocolate cookies, and boy do these pack a chocolatey punch!
The cookies are straightforward to make and I found that the batter was almost more brownie-like in its consistency.   It was not as stiff as traditional cookie batter, and consequently it resulted in rich, chewy cookies.
The recipe calls for baking on parchment paper and I highly recommend that you do so.   I didn't have any on hand so I used waxed paper instead.   Not ideal, but it worked.   If I hadn't used anything, I guarantee that each and every cookie would have permanently affixed itself to the cookie sheet.   Definitely let the cookies cool completely before removing them from the parchment paper.
I love sweets and especially cookies, but these are so rich that one single cookie completely satisfied my sweet tooth.  It was nice.
Double Chocolate Cookies
Recipe adapted from "Martha Stewart Living Holiday Cookies"

1 cup all-purpose flour
1/2 cup unsweetened Dutch-process cocoa powder
1/2 teaspoon baking soda
1/2 teaspoon coarse salt
4 ounces coarsely chopped good-quality milk chocolate
1/2 cup (1 stick) unsalted butter
3/4 cup M&Ms
1 1/2 cups sugar
2 large eggs
1 teaspoon pure vanilla extract

Preheat oven to 325 degrees. Whisk together flour, cocoa powder, baking soda, and salt; set aside.

Melt chocolate with butter in a small heatproof bowl set over a pan of simmering water; let cool slightly.

Put chocolate mixture, sugar, eggs, and vanilla in the bowl of an electric mixer fitted with the paddle attachment. Mix on medium speed until combined. Reduce speed to low; gradually mix in flour mixture. Fold in M&Ms.

Using a 1 1/2-inch ice cream scoop, drop dough onto baking sheets lined with parchment paper or nonstick baking mats, spacing 2 inches apart. Bake until cookies are flat and surfaces crack, about 15 minutes (cookies should be soft). Let cool on parchment on wire racks. Cookies can be stored between layers of parchment in airtight containers at room temperature up to 3 days.

Makes about 3 dozen