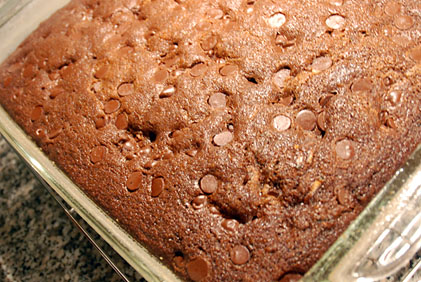 At this time of year, there's a lot of zucchini around.  Last week I sliced it thinly lengthwise (1/4 inch wide), tossed it with a little olive oil, fresh lemon juice, salt and pepper and grilled it.  Delicious!   If you're looking for something sweet, this chocolate zucchini cake is a great recipe to try.   It's also a sneaky way to get vegetables into your children.   Especially mine, who won't touch zucchini.   I made this twice in the last couple of days, and I just made it again. It's really easy to throw together, especially if you have a stand mixer.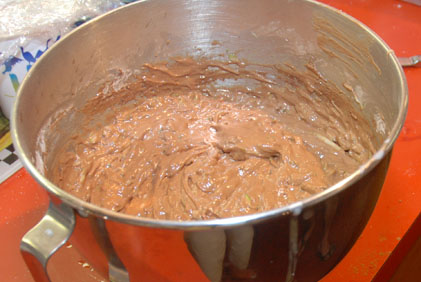 Three of my sons are in first grade now, and in addition to sending in lunch, we have to send them in with a daily "healthy snack".   This recipe qualifies in my book, so tomorrow they're each going to school with a hunk of zucchini cake for snack.
The first time I made the recipe, I used chopped cashews on top of the cake and they were delicious.   My boys don't like nuts in their bread/cake, so the cake I made tonight had just chocolate chips on it.   The cake is delicious either way.
Whenever I make this cake, it's gone within 24 hours.   It's incredibly moist and is so good that it doesn't need frosting.   That's quite a compliment coming from me.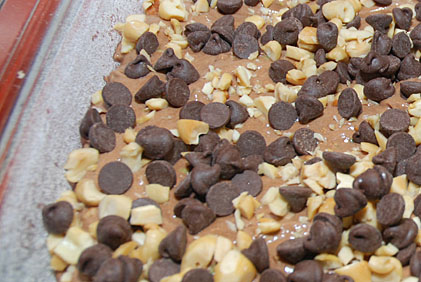 Chocolate Zucchini Cake
Adapted from Bon Appetit, November 1995

2 1/4 cups sifted all purpose flour
1/2 cup unsweetened cocoa powder
1 teaspoon baking soda
1 teaspoon salt
1 3/4 cups sugar
1/2 cup (1 stick) unsalted butter, room temperature
1/2 cup vegetable oil
2 large eggs
1 teaspoon vanilla extract
1/2 cup buttermilk
2  cups grated unpeeled zucchini (about 2 medium)
1 6-ounce package (about 1 cup) semisweet chocolate chips
3/4 cup chopped walnuts or pecans (optional)

Preheat oven to 325°F. Butter and flour 13 x 9 x 2-inch baking pan. Sift flour, cocoa powder, baking soda and salt into medium bowl. Beat sugar, butter and oil in large bowl until well blended. Add eggs 1 at a time, beating well after each addition. Beat in vanilla extract. Mix in dry ingredients alternately with buttermilk in 3 additions each. Mix in grated zucchini. Pour batter into prepared pan. Sprinkle chocolate chips and nuts (if using) over.

Bake cake until tester inserted into center comes out clean, about 50 minutes. Cool cake completely in pan.

Serves 12

Print This Recipe