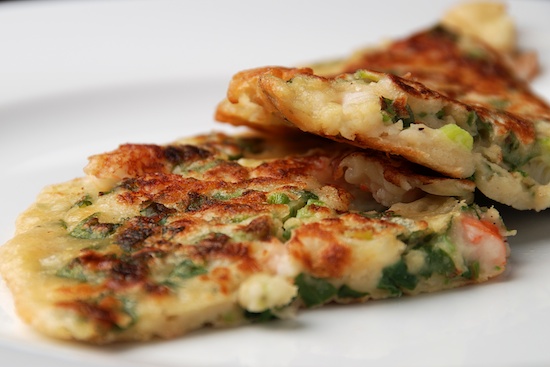 Have I mentioned that I love Mark Bittman's recipes? I just downloaded "How to Cook Everything" for my iPhone. I now have the whole cookbook on my iPhone with a lot of neat searching capabilities. I was in the supermarket the other day and wanted to make some vanilla ice cream, so I typed 'vanilla ice cream' into the app and up came the recipe! I then knew exactly what I had to buy. The app was only $1.99. It's one of the best investments I've made recently.
Anyway, this is a Mark Bittman recipe, but it's from his Minimalist column in the NY Times. I'm not sure if it made it to his cookbook, but if it didn't, it should be added to his next version. These savory pancakes were really easy to make and very tasty. They do have one odd ingredient – chickpea flour, which I have never used before, but I found it in my supermarket recently so I grabbed a bag. I'm now finding lots of recipes where I can use it. I look forward to experimenting.
This recipe calls for fresh herbs and a number of choices are given. I chose cilantro (which I LOVE), and the resulting pancakes were great! I also used scallions rather than onions, and shrimp as my seafood. Yum!
Tortillitas with Shrimp
By Mark Bittman

1/2 cup chickpea flour
1/2 cup white flour
1/2 teaspoon baking powder
Salt and freshly ground black pepper
1/3 cup chopped onion or scallions
About 1/2 cup raw shrimp, chopped, or scallops or other shellfish or fish
2 to 3 tablespoons chopped chives, parsley, thyme or cilantro
Olive oil.

In a bowl, combine flours and baking powder with salt and pepper. Add a little more than a cup of water and stir to combine; consistency should resemble pancake batter (if batter is too thick, add more water, a little at a time). Stir in the onions, chopped seafood and herbs.

Put a large nonstick skillet over medium-high heat and film its bottom generously with olive oil. When oil is hot, pour in half the batter until it fills center of pan; spread gently with a spoon to form a large pancake.

Cook about 3 minutes, or until pancake is set around edges; flip pancake and continue cooking for another 3 minutes, then flip it again and cook for another 30 seconds or so, until it is crisp on outside but still moist inside. Remove from pan and serve immediately, while remaining batter cooks.

Yield: 4 or more servings.

Print This Recipe