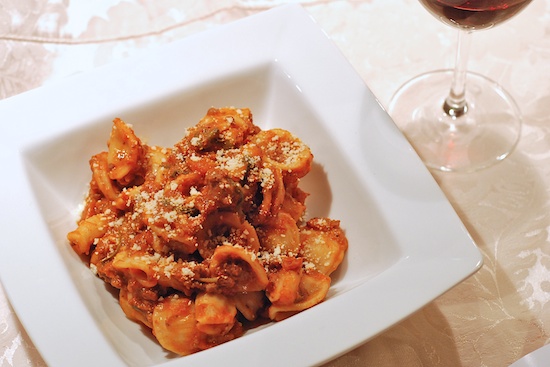 I have been eating so many leftovers from Christmas Eve that I decided I wanted something else for dinner tonight. Something different but simple. My parents gave me How Easy Is That for Christmas. It's Ina Garten's latest cookbook. I love all of her recipes. I don't think I've ever made one that I didn't like and this was no exception.   The only complaint I've ever had about her recipes is that she's heavy-handed on the salt.   This recipe called for adding 1 tablespoon of salt to the sauce.   I added half that amount and found the sauce to be plenty salty.
This dish was very easy to throw together and it was a nice change from all of the rich vegetables that I have as leftovers from Christmas Eve.   I think the rest of those need to be frozen to be eaten some time in the future.
This dish is definitely going to be added to my regular dinner rotation.
Weeknight Bolognese
Recipe from How Easy is That by Ina Garten

2 tablespoons good olive oil, plus extra to cook pasta
1 pound lean ground sirloin
4 teaspoons minced garlic (4 cloves)
1 tablespoon dried oregano
¼ tsp crushed red pepper flakes
1 ¼ cups dry red wine, divided
1 (28 ounce) can crushed tomatoes, preferably San Marzano
2 tablespoons tomato paste
Kosher salt and black pepper
¾ pound dried pasta, such as orecchiette or small shells
¼ tsp ground nutmeg
¼ cup chopped fresh basil leaves, lightly packed
¼ cup heavy cream
½ cup freshly grated Parmesan cheese, plus extra for serving

Heat 2 tablespoons of olive oil in a large (12 inch) skillet over medium-high heat. Add the ground beef and cook, crumbling the meat until the meat is no longer pink and has started to brown. Add the garlic, oregano, and red pepper flakes and cook for 1 more minute. Pour 1 cup of the wine into the skillet and stir to scrape up any browned bits. Add the tomatoes, tomato paste, 1/2 tablespoon salt, and 1 ½ teaspoons pepper, stirring until combined. Bring to a boil, lower heat, and simmer for 10 minutes.

Meanwhile, cook the pasta according to the directions on the box.

Finish the sauce while the pasta cooks. Add the nutmeg, basil, cream, and the remaining ¼ cup wine to the sauce and simmer for 8-10 minutes, stirring occasionally until thickened. When the pasta is cooked, drain and pour into a large serving bowl. Add the sauce and ½ cup Parmesan and toss well. Serve hot with Parmesan on the side.

Yield: 4 – 5 servings

Print This Recipe