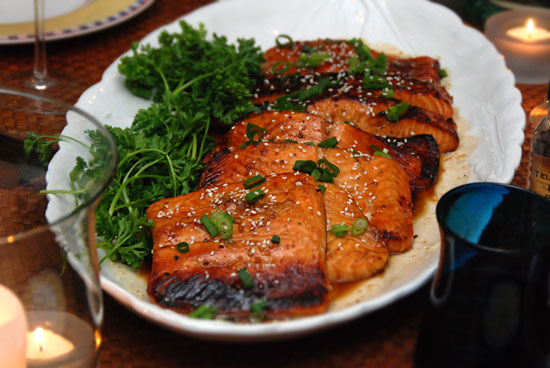 This isn't the greatest picture, but this really is one of the greatest salmon recipes.   I never liked salmon until my neice Christina turned me on to this recipe years ago.   The salmon marinates in a sweet Asian marinade which gives it a lot of wonderful flavor.
This is another one of those recipes that's great for dinner parties because you can have the salmon marinating before the guests arrive.   Once you're ready for dinner, pop it in the oven and it's ready in less than 15 minutes.  I love recipes that allow me to spend time with the guests when they arrive rather than spending time in the kitchen.   That said, I can't remember a single time that I have been totally ready for a dinner party when the guests  arrived.   I'm always running around chopping last minute vegetables, having the guests put out the cheese and crackers, etc.   One of these days I'll have everything prepped in advance!   My goal is to be more like our friends Walt and Nancy who throw amazing dinner parties.   Their home looks wonderful when everyone arrives, the food is set out, a bar is set up that always looks very inviting, and they have everything for dinner prepped in advance.   It seems like they spend fewer than 10 minutes in the kitchen, and are able to serve a gorgeous gourmet meal.
Ok, so back to the salmon.  While the salmon is cooking, I take the marinade and reduce it.   The original recipe instructs you to throw away the marinade, but I have found that it's too tasty to throw away, and once cooked and reduced, it's a great sauce for the salmon.   I made this last week when we had our friends Marlise and Andy and their twins visiting us from Switzerland for a week.   Marlise and Andy made a great appetizer for the meal that everyone loved.   I have a great picture of it, which I'll post when Andy sends me the recipe.   I served the salmon with this rice.
This marinade also works nicely with chicken.
So, I got three out of the four boys to tray the salmon.   One wouldn't go near it.   Of the three that tried it… of course, none of them like it.
Bourbon Glazed Salmon
Adapted from Cooking Light,  September 2001

1  cup  packed brown sugar
6  tablespoons  bourbon
1/4  cup  low-sodium soy sauce
2  tablespoons  fresh lime juice
2  teaspoons  grated peeled fresh ginger
1/2  teaspoon  salt
1/4  teaspoon  freshly ground black pepper
2  garlic cloves, crushed
8  (6-ounce) salmon fillets (about 1 inch thick)
Cooking spray
4  teaspoons  sesame seeds
1/2  cup  thinly sliced green onions

Combine the first 8 ingredients in a large zip-top plastic bag; add salmon fillets. Seal bag, and marinate in refrigerator for at least 30 minutes, turning bag once. Remove fillets from bag.   Put remaining marinade in a small pan and simmer for at least 10 minutes, reducing the sauce until it thickens.

Preheat broiler.

Place fillets on broiler pan coated with cooking spray. Broil 11 minutes or until fish flakes easily when tested with a fork.   Drizzle some of the reduced sauce over each filet, and sprinkle with 1/2 teaspoon sesame seeds and 1 tablespoon onions.  Serve warm.

Yield:  8 servings

Print This Recipe