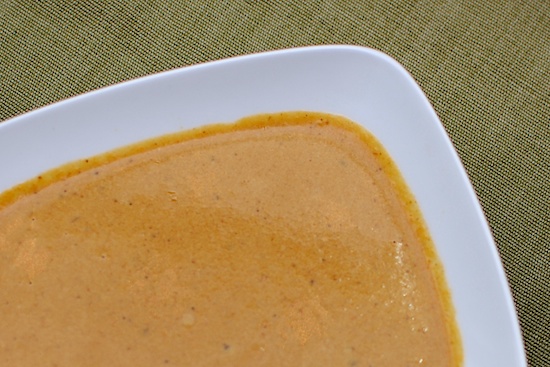 I thought this soup was delicious! It's very rich, and I served one batch as an appetizer for four people. We each got a small serving, but it was a perfect size for an appetizer.   I could have easily eaten more, but I served a main course as well.
The original recipe called for 4 carrots. I added 6 because I really like carrots. This soup is quite forgiving.   If you really like the flavor of carrots, throw a couple more in, although too many more may overpower the coconut flavor.
The soup came together very quickly and with very little work. When I served it, it wasn't hot anymore, but I still thought it was great. Everyone else went to the microwave to heat theirs up, but I thought it was fine cold (room temperature, actually.) One of the things I'm not good at is getting everything to the table hot. When I'm making several different things, inevitably one of them gets cold as I'm prepping the other things. It's one of the things I have yet to master.
The boys didn't get a chance to try this (not that they would have been willing) because we ate every last drop.
Carrot-Coconut Milk Soup
Recipe from Culinate.com, originally from Urban Pantry by Amy Pennington

2 Tbsp. olive oil
1 medium shallot, thinly sliced (about ½ cup)
2 hearty pinches of salt
6 carrots, peeled and roughly chopped
1 can (13½ ounces) coconut milk
1 cup vegetable or chicken stock
~ Salt and pepper
~ Yogurt, for garnish (optional)

In a medium saucepan, heat the olive oil over medium heat. Add the shallot and one pinch of salt, and stir until soft but not brown, about 2 minutes. Add the carrots and stir occasionally, letting them sit still and brown a bit (the shallot will start caramelizing as well), about 8 to 10 minutes.

Pour in the coconut milk and stock and reduce the heat to low. Simmer the mixture until the carrots are soft and cooked through, about 20 to 30 minutes. Add the second pinch of salt, stir, then remove from the heat.

Either use an immersion blender to purée the soup or carefully add the soup, in batches, to a blender. (Remember to leave room in the blender, as liquids expand when heated.) Purée until smooth, adding a bit of water if you'd like a thinner consistency.
Return to the pot and heat until warmed through. Season with salt and pepper to taste. Garnish with a spoonful of yogurt, if desired, and serve immediately.

Yield: 2 servings or 4 very-small servings (can be used as a small appetizer)

One year ago: Mexican-Style Slaw with Jícama, Cilantro and Lime
Two years ago: Vanilla Brown Sugar Breakfast Polenta
Three years ago: Chick Pea Soup