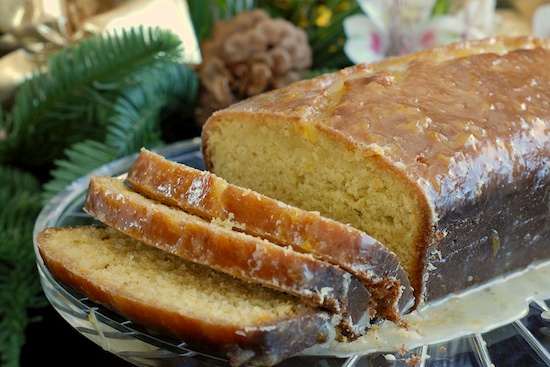 I have been looking at this recipe for the last year or so and decided to make it the other day. I had a lot of clementines in the refrigerator and the boys weren't eating them fast enough, so it was a perfect time to try this. It is like a cross between an orange pound cake and a loaf of orange bread. The crumb was a little heavier than that of a pound cake, but the bread had that pound-cakey taste. My boys inhaled it.
I left the chopped fruit out of mine because I know the boys don't like cut up fruit in things. A couple of them eyed the orange zest in the bread. Of course they spotted it right away, but I convinced them to try the bread, and they loved it and promptly forgot about the zest. I wish I were that convincing with things like pizza.
The glaze on this bread is amazing. To use all of the glaze (which I recommend that you do), you'll have to glaze the bread several times. It's definitely worth it. This bread would be great with a scoop of vanilla ice cream.
Clementine Vanilla Bean Quick Bread
Recipe from Martha Stewart magazine, November 2009

10 clementines or tangerines
3/4 cup heavy cream
1 tablespoon pure vanilla extract
2 cups all-purpose flour, plus more for pan
1/4 teaspoon baking powder
1/4 teaspoon baking soda
1/4 teaspoon salt
4 ounces (1 stick) unsalted butter, plus more for pan
1 1/4 cups sugar
2 vanilla beans, split and scraped, pod reserved for another use
2 large eggs

Preheat oven to 350 degrees. Butter and flour a 5-by-9-inch loaf pan. Zest 4 clementines to yield 1 tablespoon zest. Juice 2 zested clementines and 6 remaining unzested clementines to yield 3/4 cup juice. Cut pith from 2 remaining zested clementines. Slice fruit along membranes to release segments into a bowl; discard membranes and any seeds.

Combine 1/4 cup clementine juice, the cream, and vanilla extract in a medium bowl. Whisk together flour, baking powder, baking soda, and salt in another bowl.

Beat zest, butter, 1 cup sugar, and the vanilla seeds with a mixer on medium speed until combined, about 4 minutes. With machine running, add eggs, 1 at a time. Reduce speed to low, and beat flour mixture into butter mixture in 3 additions, alternating with cream mixture, beginning and ending with flour.

Fold clementine segments into mixture, and pour into pan. Gently smooth top using an offset spatula.

Place pan on a rimmed baking sheet, and bake until a tester inserted into center comes out clean, about 50 minutes. Meanwhile, bring remaining 1/2 cup clementine juice and cup sugar to a boil in a small saucepan over medium heat. Reduce heat, and simmer for 3 minutes.

Remove bread from oven, poke top all over with a skewer, and brush with half the clementine syrup. Transfer pan to a wire rack; let cool for 15 minutes. Invert pan to remove bread. Let cool completely on wire rack, top side up.

Brush remaining clementine syrup onto sides and again on top of bread. (Bread can be stored, wrapped, at room temperature overnight or refrigerated for up to 5 days.)

Yield: One 5″ x 9″ loaf of bread

One year ago: Quinoa Pilaf with Pine Nuts
Two years ago: The Ultimate Quiche