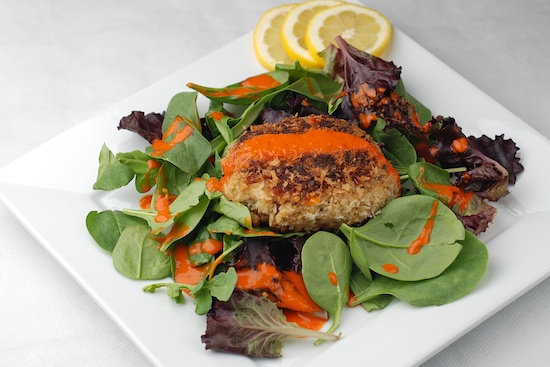 I have had a container of lump crab meat kicking around my refrigerator for months now. When I bought it, the expiration date was about a year out. The crab must be vacuum sealed to enable it to be kept for so long. Anyway, I made these crab cakes for dinner the other night. I was inspired to use the crab because I recently dined at a local restaurant called P.J. Clarke's and I had their crab cake salad, which was delicious.
These crab cakes are different from those served at P.J. Clarke's, but they're equally delicious. I like the fact that they don't contain any mayonnaise. I also like all of the seasoning that goes into them.
I served the crab cakes with the sweet red pepper dressing, which I really liked. Unfortunately I found that the crab cakes didn't improve by putting an equally flavorful dressing on them. Next time, I'll serve the crab cakes and the dressing separately.
Did the boys try this?  Nope.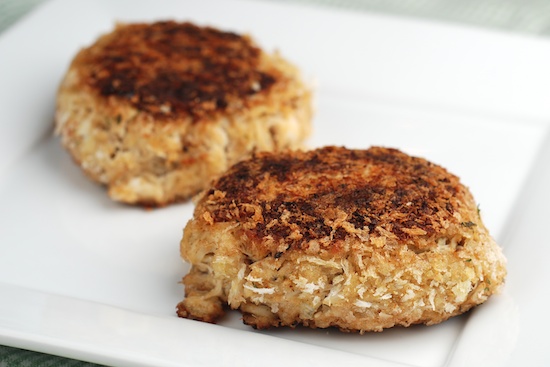 Crab Cakes
Recipe by Ellie Krieger

Olive oil for frying the crab cakes
1 egg, lightly beaten
2 teaspoons Dijon mustard
1 teaspoon Worcestershire sauce
1 tablespoon fresh lemon juice
Dash hot sauce
1/2 teaspoon crab boil seasoning (recommended: Old Bay, but Emeril's Bayou seasoning works)
1/2 cup finely chopped red bell pepper
1 scallion, including green top, finely chopped
1 pound lump crab, picked over for cartilage
3/4 cup dry bread crumbs
1/4 teaspoon salt
Freshly ground black pepper

In a medium bowl mix together the egg, mustard, Worcestershire sauce, lemon juice, Old Bay seasoning and hot sauce. Stir in the bell pepper and scallion. Gently fold in the crab, 1/4 cup of the bread crumbs and salt and pepper to taste. Put the remaining bread crumbs in a shallow dish.

Divide the crab mixture into 8 mounds. Shape 1 mound into a round and coat in bread crumbs. Transfer to the prepared baking sheet and flatten the crab cake to form a patty about 1-inch high. Repeat to form the remaining crab cakes.

Heat the olive oil in a frying pan over medium heat. When the oil is heated, put the crab cakes in the pan. Fry for 4 – 5 minutes or until golden brown. Gently flip the crab cakes and fry the other side until golden brown.

Yield: 8 crab cakes

Sweet Red Pepper Dressing
Recipe by Rachel Ray

1/4 cup extra-virgin olive oil
2 roasted red peppers
1 small shallot, chopped
2 teaspoons sugar
1/2 lemon, juiced
2 tablespoons red wine vinegar
Salt and black pepper

Combine the roasted red peppers, shallot, sugar, the juice of 1/2 lemon and the red wine vinegar in a food processor. Stream in the remaining 1/4 cup extra-virgin olive oil and form a dressing. Stop the processor and season with salt and pepper, to taste.


One year ago:  Sauteed Scallops with Chablis Cream Sauce
Two years ago:  Chicken with Balsamic Barbeque Sauce
Three years ago:  Tuna Salad with Cranberries

Print This Recipe