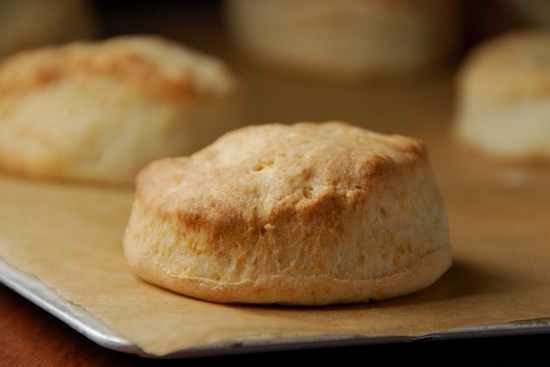 I LOVE biscuits. I love almost any bread product, but I haven't had much luck making them because most of them require yeast which I always have trouble with, or difficult instructions that call for cutting in butter and things like that. Well, if you like biscuits like I do and want the easiest recipe in the world, this is it. There's nothing much to it other than mixing the dough with a wooden spoon and then cutting it into biscuits.   The ingredient list is short and sweet too, and you'll probably have most of the ingredients on hand.   I found a video describing how to do it on the America's Test Kitchen site. One of my sons now asks me to make them every day.  I'm going to teach him how to make them this weekend.
I read a lot of other food blogs and often they have giveaways. I thought it would be fun to try one myself so I'm giving away a beautiful handmade basket that would be perfect for serving these biscuits. I bought it after Mass one Sunday when a group called Handcrafting Justice came to show their products. HandCrafting Justice is a project of the Sisters of the Good Shepherd. They work in cooperation with women struggling for economic justice and independence in the developing world. They support the women and assist them in their efforts to create employment for themselves in order to provide for their families and better their lives. The products are beautiful and I really love the basket I picked out. It's nice to know that my purchase helped another woman somewhere in the world.
Giveaway Rules **The contest is over and the winner is Melissa!**
IN ORDER TO WIN YOU MUST ENTER AN EMAIL ADDRESS (IT WON'T BE PUBLISHED) SO I CAN CONTACT YOU.
1. The contest ends on Saturday, November 21st at midnight EST.
2. Winning entries will be chosen by a random number generator.
3. In order to claim your prize, you must respond to the notification email within three days.
4. To enter, please leave a comment below that includes the name of your favorite cookbook. I'm always on the lookout for new ones.   Please don't forget to leave your email address so I can contact you if you win.
Good luck!
**The contest is over and the winner is Melissa!**
Cream Biscuits
Adapted from America's Test Kitchen

2 cups all-purpose flour
2 teaspoons. sugar
1 teaspoon baking powder
1/2 teaspoon salt
1 1/4 cups heavy cream

Preheat oven to 425 F.    Line a baking sheet with parchment paper.

Whisk together the dry ingredients.  Add the cream and mix with a wooden spoon until a dough forms.  This doesn't take longer than a minute or so.

Turn the dough out onto a lightly floured surface (I used my granite countertop), and knead for about 30 seconds.   Pat the dough down until it's about 3/4″ in thickness.   Use either a biscuit cutter or a glass to cut biscuits out of the dough.   Place them on the parchment-lined baking sheet.    If there is any dough left after you cut out all of your biscuits, mash it together and pat it down again until it's 3/4″ in thickness.   Keep cutting until all of the dough is used.

Bake the biscuits for ~15 minutes or until they're golden brown on top.

Yield:  ~9 biscuits