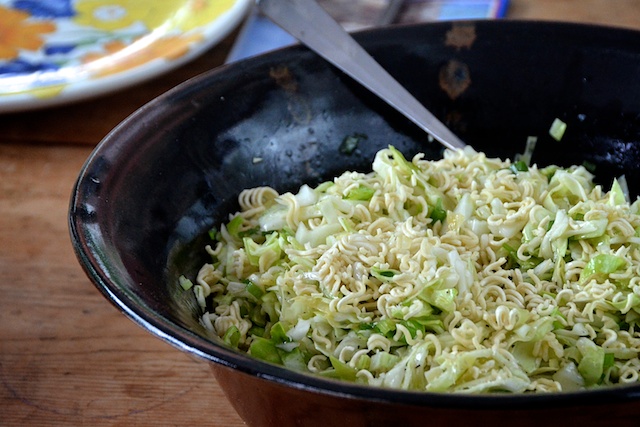 On Sunday, my parents surprised us with a visit to Shelter Island. It was great to see them. Our boys LOVE it when they visit. My mom told me that all they wanted was a beer when they got here, but I can't have visitors without serving them a meal. My parents were two hours away, so I knew I had to make some quick recipes. One thing I love about summer cooking is that you can make lots of recipes very quickly without cooking at all. If you're a fast chopper, or if you have a food processor, things come together quickly.
Our supermarket on Shelter Island has a surprisingly decent Asian section. They had mirin, rice wine vinegar and sesame oil. They also had white and black sesame seeds. Unfortunately, I forgot to pick them up, so I made the salad without them. It was still delicious.
When you first make the salad, it is nice and crunchy from both the cabbage and the ramen noodles. It has an Asian flavor. The leftovers are not quite as crunchy the next day, but they're equally delicious. The second day, the consistency is more like cole slaw.
This salad is going to become one of my summer staples. If you have a food processor, shredding the cabbage will be quick and easy. I didn't have one, so I cut the cabbage by hand and it didn't take too long. I highly recommend this as a fresh, quick and easy summer side.
Hawaiian-Style Cabbage Salad
Recipe adapted slightly from Saveur.com

1 large head green cabbage, shredded into 1/4-inch ribbons
6-8 scallions, white and green parts, sliced thinly (about 2 cups)
1/4 cup mirin
1/4 cup seasoned rice wine vinegar
2 Tablespoons sugar
1/2 teaspoon kosher salt
1/2 teaspoon white pepper (or black pepper)
1/4 cup sesame oil
1/4 cup vegetable oil
1/4 cup toasted sesame seeds (optional)
1/4 cup black sesame seeds (optional)
1 package instant ramen noodles, crushed lightly (discard the seasoning packet)

In a large bowl, combine the cabbage and scallions. In a medium bowl, whisk together the mirin, vinegar, sugar, salt, and pepper. Combine the sesame and vegetable oils in a separate bowl and slowly add into the mirin mixture, whisking steadily, until all the oil is added and the dressing has emulsified. Add vinaigrette to the bowl of cabbage and scallions, top with sesame seeds (if using) and crushed ramen noodles. Toss to combine and serve immediately.

Yield: 6 servings

One year ago: Quick Cinnamon Buns with Buttermilk Icing
Two years ago: Dulce de Leche Brownies
Three years ago: Tate's Bake Shop Chocolate Chip Cookies
Four years ago: Peanut Butter Cup Bars
Five years ago: Outrageous Brownies

Print This Recipe