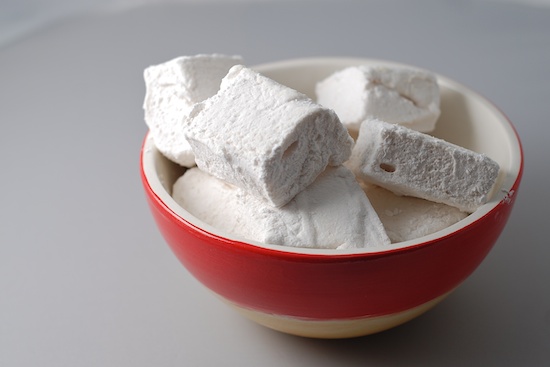 So about a week ago, I bumped into my friend Jay in the supermarket. I pointed out the Mallomars, which were "on sale". I really didn't think that $4.99/box was such a great sale, so I didn't buy any. Jay's next question to me was – so when are you going to make your own Mallomars. I thought about it for a minute and told him that I'd have to master marshmallows first.  If you're not familiar with Mallomars, they're a seasonal cookie (they're not sold in the summer) that consists of a graham cracker base, topped with marshmallow, then dipped in chocolate.   They are one of my all-time favorite cookies, and I get very excited when I see them appear on supermarket shelves in the fall.   If you want to learn more about Mallomars, check out this interesting New York Times article.

I was a little fearful about making marshmallows because I have read that it can be a little tricky. Well, my fears were unfounded. As long as you have a candy thermometer (mine broke, so I used a meat thermometer which worked fine) and a Kitchenaid stand mixer, you'll be fine.
The marshmallows don't take that long to make, but they do have to sit for a while once you pour them into the pan, so don't expect to eat them immediately.
Two of my boys love to make origami. I'm hoping for a couple of nice ornaments for our Christmas tree this year. One son made this box especially for the marshmallows, so I had to include the photo.
Ok, now that I've mastered marshmallows, I guess it's graham crackers next.  Once I've mastered those, I can perfect my chocolate dipping technique and I'll be in business.   Mallomars, here I come!
Oh, I almost forgot to mention that these marshmallows are delicious!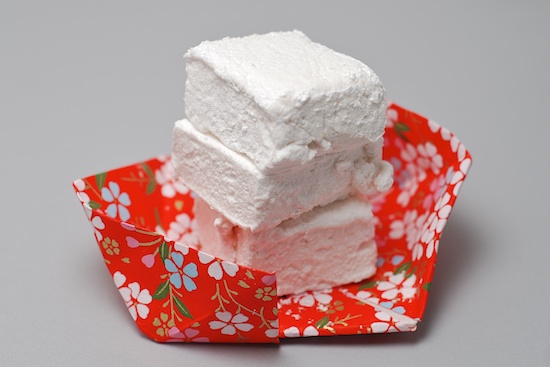 Marshmallows
Recipe from Alton Brown as seen on foodnetwork.com

3 packages unflavored gelatin
1 cup ice cold water, divided
12 ounces granulated sugar, approximately 1 1/2 cups
1 cup light corn syrup
1/4 teaspoon kosher salt
1 teaspoon vanilla extract
1/4 cup confectioners' sugar
1/4 cup cornstarch
Nonstick spray

Place the gelatin into the bowl of a stand mixer along with 1/2 cup of the water. Have the whisk attachment standing by.

In a small saucepan combine the remaining 1/2 cup water, granulated sugar, corn syrup and salt. Place over medium high heat, cover and allow to cook for 3 to 4 minutes. Uncover, clip a candy thermometer onto the side of the pan and continue to cook until the mixture reaches 240 degrees F, approximately 7 to 8 minutes. Once the mixture reaches this temperature, immediately remove from the heat.

Turn the mixer on low speed and, while running, slowly pour the sugar syrup down the side of the bowl into the gelatin mixture. Once you have added all of the syrup, increase the speed to high. Continue to whip until the mixture becomes very thick and is lukewarm, approximately 12 to 15 minutes. Add the vanilla during the last minute of whipping. While the mixture is whipping prepare the pans as follows.

Combine the confectioners' sugar and cornstarch in a small bowl. Lightly spray a 13 by 9-inch metal baking pan with nonstick cooking spray. Add the sugar and cornstarch mixture and move around to completely coat the bottom and sides of the pan. Return the remaining mixture to the bowl for later use.

When ready, pour the mixture into the prepared pan, using a lightly oiled spatula for spreading evenly into the pan. Dust the top with enough of the remaining sugar and cornstarch mixture to lightly cover. Reserve the rest for later. Allow the marshmallows to sit uncovered for at least 4 hours and up to overnight.

Turn the marshmallows out onto a cutting board and cut into 1-inch squares using a pizza wheel dusted with the confectioners' sugar mixture. Once cut, lightly dust all sides of each marshmallow with the remaining mixture, using additional if necessary. Store in an airtight container for up to 3 weeks.

Yield: One tray of marshmallows (the number of marshmallows will vary based on how big you cut them.)

One year ago: Smoky Black Bean and Cheddar Burrito with Baby Spinach
Two years ago: Caramelized Spiced Nuts
Three years ago: Fresh Corn with Shrimp and Cherry Tomatoes