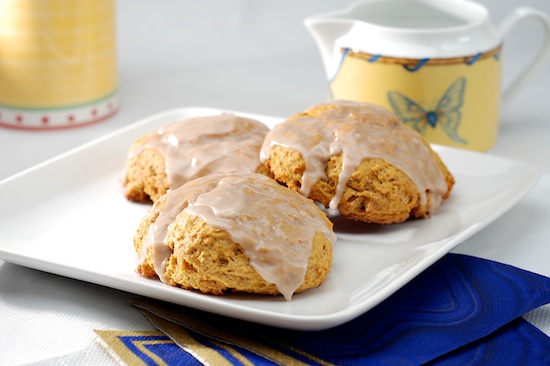 I make a lot of pumpkin muffins for the boys in the fall. They inhale them for breakfast before school. I make them so much that I wanted to change it up a bit. I found this recipe for pumpkin scones and decided to give it a shot. Most of the boys loved them, as did my husband, who gave these a double thumbs up.
These scones are not terribly sweet on their own, but the glaze adds the perfect amount of sweetness. Scones can sometimes be dry; not these. If you bake these, your home will smell just like the holidays. The pumpkin pie spice will do that every time.
Scones are often cut into triangular shapes. I decided to make drop scones. I used a regular sized ice cream scoop, dropped the dough on the cookie sheet and flattened it slightly before I put them in the oven. It worked perfectly.
Enjoy these for breakfast or with a cup of coffee or tea in the afternoon.
Pumpkin Scones
Recipe from Taste of Home

2 1/4 cups all-purpose flour
1/4 cup packed brown sugar
2 teaspoons baking powder
1 1/2 teaspoons pumpkin pie spice
1/2 teaspoon ground cinnamon
1/4 teaspoon baking soda
1/4 teaspoon salt
1/2 cup cold butter, straight from the refrigerator
1 large egg
3/4 cup canned pumpkin
3/8 cup milk, divided

Glaze:
1 cups confectioners' sugar
1 1/2 tablespoons milk
1/8 teaspoon pumpkin pie spice

Preheat the oven to 400°F. In a large bowl, combine the first seven ingredients. Cut in butter until mixture resembles coarse crumbs. In another bowl, whisk the eggs, pumpkin and 1/4 cup milk. Stir into dry ingredients just until moistened.

Turn onto a floured surface; knead 10 times. At this point, you can either make drop scones by dropping large scoops of dough onto your ungreased baking sheet about an inch apart. Press each scone down slightly. Alternatively, you can create an 8″ circle out of the dough and cut it into 8 triangles, placing them 1″ apart on the baking sheet. Brush with remaining milk.

Bake at 400° for 12-15 minutes or until golden brown. Remove to wire racks; cool for 10 minutes. Combine the glaze ingredients; drizzle over scones. Serve warm.

Yield: 8 scones

One year ago: Orzo with Roasted Vegetables

Print This Recipe