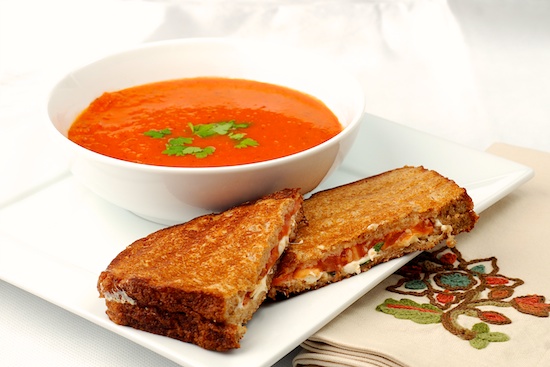 It's a cold and rainy night in NYC.  A good night to stay inside.  It's the kind of night where I'd get a roaring fire going if we had a fireplace.  I've mentioned before that one of my sons won't eat meat because he can't stand the thought of hurting an animal, so we've been trying to eat less meat as a family.  He really hates seeing cooked meat on the table.   He didn't complain tonight.
This was pure comfort food.  A warm, gooey sandwich and a tasty bowl of soup, that doubled as a dipping sauce for me.   There's really nothing better than a smoked mozzarella grilled cheese sandwich and a bowl of tomato soup on a cold, rainy night.
I don't have a Panini press, so I had to make do with a grill pan, a frying pan and two 10-pound weights.   It worked like a charm!
Of course, none of the boys had any interest in this.  I do have to say that our non-meat-eating son is getting much better about trying the vegetarian offerings that I make.   He almost never likes any of them, but at least he's getting used to some new flavors.  Hopefully one of these days he'll come around.
Roasted Red Pepper and Tomato Soup with Smoky Caprese Panini
Recipe adapted from Rachael Ray

2 roasted red bell peppers
2 tablespoons extra-virgin olive oil
2 garlic cloves, minced
1 small carrot, peeled and chopped
2 small celery stalks, chopped
1 onion, chopped
Salt and freshly ground black pepper
1 (28-ounce) can  fire roasted diced tomatoes 2 cups vegetable broth
1-pound ball freshly smoked mozzarella, cut into 16 thin slices
1 large ripe tomato, cut into 8 thin slices
8 slices bread
butter or olive oil for the bread
1/2 cup fresh basil leaves

Meanwhile, heat the extra-virgin olive oil in a soup pot. Add the garlic, carrot, celery, and onions to the pot and season with salt and pepper. Cook until the vegetables soften, about 10 minutes. Add the tomatoes, broth and peppers. Puree the mixture using an immersion blender until smooth. Continue to heat the soup until warmed through. Season with salt and pepper. I continued to cook it as I made the sandwiches.

Heat a panini press or a large heavy skillet. Lightly butter or spread a little olive oil on one side of each piece of bread.  Make sandwiches using 2 slices of cheese and 2 slices of ripe tomato on 4 of the bread slices. Sprinkle with salt and pepper, to taste, and top with some torn basil. Cover with the remaining 4 slices of bread and add them to the panini press or hot skillet. If using a skillet, top with a second smaller pan and weight it down with heavy cans or weights. Press the sandwiches to toast and melt the cheese, a few minutes on each side or 5 minutes in a hot press.

Serve the soup and sandwiches together.

Yield: 4 servings

One year ago: Chicken and Dumplings
Two years ago: Caribbean Succotash
Three years ago: Cinnamon Sugar-Dipped Blueberry Muffins
Four years ago: Tomato Orange Soup

Print This Recipe