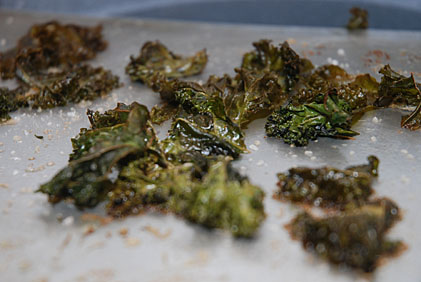 Ok, I seem to have done it.  After all of this cooking, I found something (and a dark-green, leafy something no less) that my non-vegetable/fruit eating son actually likes.   I was hoping I'd eventually find something and today I hit the jackpot.   Guess what he liked…  you'll never do it…    it's a tough one…  ok, I'll tell you.   He likes KALE!   Yes, the bitter, dark-green leafy vegetable!   I know, it's hard to believe.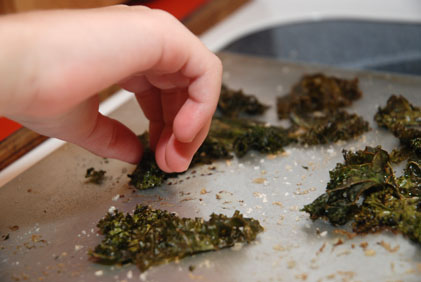 Ok, so now you probably want to know how I prepared it.   It's so incredibly simple.    I coated it in a mixture of olive oil, vinegar and salt and baked it.   The result was something so light and crispy that it almost disintegrated when it hit my mouth.   My son really loved the light, airy, crispy texture, even though it was dark green – which has traditionally been something terribly taboo for him.    I sold them as a new kind of chip, and he bought it.   He said he's happy to eat them any time I make them.   I still find it hard to believe as I write this.
Next time I make them, I'm going to season them with something more flavorful than salt, perhaps a bit of paprika, or some seasoned salt.   Play around with the seasonings, but you've got to try this recipe.   Especially if you have picky eaters.   I hope it works as well for you as it did for me.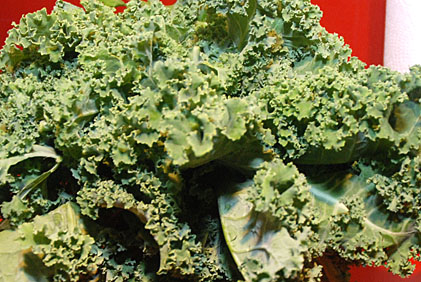 Before I share the recipe, let me tell you a little bit about kale. It's high in vitamin K, vitamin C, lutein, beta carotene and calcium. It also has a good dose of fiber. It's incredibly nutritious, which is why I still can't believe my son likes it! We'll be having this a lot at our house.
Tonight our friend Anthony is visiting, and he liked the kale chips so much that he decided to grab a bunch of basil from the garden to try basil chips.   Same recipe, just substitute basil for the kale.   These too were delicious and in addition to the excellent light, crispy texture, each basil leaf provided an explosion of flavor.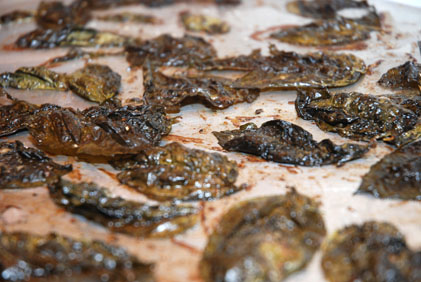 Crispy Kale Chips 

1 bunch kale
Olive oil
Balsamic vinegar
Salt

Preheat the oven to 350 degrees F.   Spray a baking sheet with non-stick spray. Tear the kale leaves into bite-sized pieces, avoiding the stem.  Put them in a ziploc bag.

Mix 1 tbsp. olive oil with 3/4 teaspoon balsamic vinegar.   Pour into the bag containing the kale.   Shake to coat each leaf.    Make sure each leaf is lightly covered.

Put kale onto the baking sheet in a single layer.   Lightly sprinkle with salt (or your favorite seasoning) to taste.   Bake for 15 minutes or until crispy.