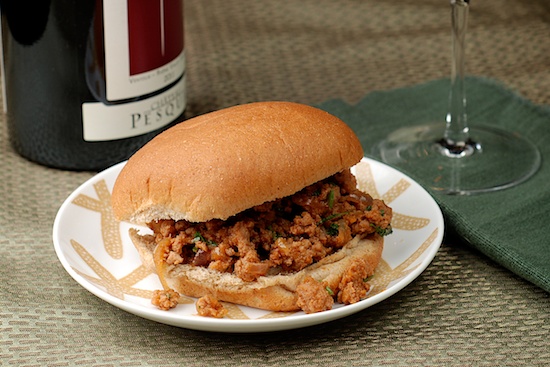 My parents gave me a subscription to a magazine called Fine Cooking for Christmas. I have been receiving it for several years now and I LOVE it! It's one of my favorite cooking magazines. One recipe is better than the next.
This recipe came from the latest issue and it's a perfect weeknight meal because it comes together very quickly. These sloppy joes have a very interesting flavor from the mixture of the hoisin sauce, fresh lime and cilantro. They're definitely not the Sloppy Joes that I remember being served by the lunch ladies in elementary school. These flavors are a lot more interesting. I do have very fond memories of the meat being scooped onto the buns using an ice cream scoop and then being tossed onto my tray. Sloppy Joe day was one of my favorites in elementary school and now I can recreate that pleasure at home.
As expected, the boys wouldn't touch them.
Turkey Sloppy Joes with Hoisin and Cilantro
Recipe from Fine Cooking Magazine, December 2012

1 Tablespoon canola oil or vegetable oil
1 medium red onion, halved and thinly sliced
1 medium clove garlic, mashed to a paste with 1/4 tsp. kosher salt
3/4 teaspoon finely grated fresh ginger
1/8 teaspoon cayenne
1 pound ground turkey
1 8-oz. can tomato sauce
1/4 cup hoisin sauce
3/4 cup fresh cilantro leaves
2 Tablespoons fresh lime juice; more to taste
4 split egg twist rolls or sesame seed hamburger buns, toasted if desired

Heat the oil in a 12-inch nonstick skillet over medium-high heat. Add the onion and cook, stirring frequently with a wooden spatula, until softened, about 5 minutes. Reduce the heat to medium, add the garlic, ginger, and cayenne and cook, stirring constantly, until fragrant, about 1 minute. Add the turkey and cook, stirring constantly and breaking it up into small pieces, until it no longer looks raw, about 4 minutes.

Stir in the tomato sauce and hoisin sauce, increase the heat to medium high, and cook, stirring often, until thickened, 5 to 7 minutes. Remove from the heat and stir in the cilantro and lime juice, adding more lime juice to taste. Serve in the buns.

Yield: 4 servings

One year ago: Cinnamon Vanilla Granola
Three years ago: Creamed Green Cabbage
Four years ago: Chicken Tikka Masala

Print This Recipe