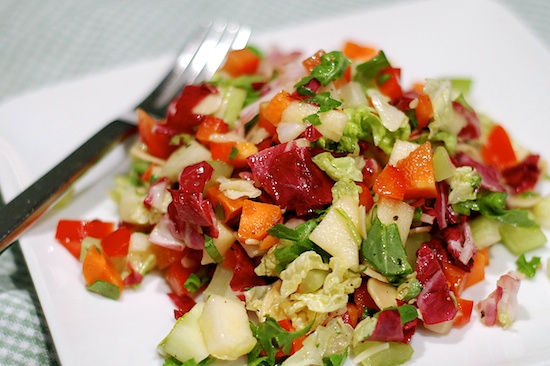 My brother came down from Boston to participate in the NYC Triathlon on Saturday and we traditionally host a pasta dinner for him and any of his friends that are around. Because we came in from Shelter Island to see the race, my mom volunteered to provide fresh pasta and sauce. All I had to do was make the salad. I thought about serving my traditional salad, which is greens, some nuts and a little fruit in a balsamic vinaigrette, but decided to step outside the box and make this chopped salad. I love a good chopped salad – the kind that can be eaten with a spoon. No one piece of salad ever too big to fit in your mouth.
This salad is great. Lots of colors and flavors that work well together and a lot of crunch. I know that I've mentioned that my kids are terribly picky eaters. Guess what – all of the adults at the table ate the salad except my father! He wouldn't touch it. Not sure what it was about the salad, but he wouldn't go near it. Can picky eating genes skip a generation?
The inspiration for this salad came from Paul Newman. He opened a restaurant in CT called Dressing Room and one of the standard menu items is: Newman Says "Use a Spoon" Chopped Salad. At his restaurant the salad itself varies by season, always using the most fresh, seasonal ingredients which were always chopped to perfection. Mr. Newman wanted to make sure you knew which utensil to grab when you ate it.
"Use a Spoon" Chopped Salad
Recipe slightly adapted from Eating Well November/December 2011 issue

1/4 cup white-wine vinegar
1/4 cup extra-virgin olive oil
1 teaspoon honey
1/2 teaspoon sea salt
1/4 teaspoon freshly ground pepper
3 medium stalks celery, diced (1/4-inch)
2 medium carrots, diced (1/4-inch)
1 large red bell pepper, diced (1/4-inch)
1 medium apple, peeled and diced (1/4-inch)
1/2 large cucumber, peeled, seeded and diced (1/4-inch)
1 cup sliced Treviso or radicchio
1 cup sliced arugula, any tough stems removed
1 cup thinly sliced napa, Savoy or other soft cabbage
1 cup crumbled feta cheese
1/2 cup toasted slivered almonds

Whisk vinegar, oil, honey, salt and pepper in a large salad bowl until well combined.

Add celery, carrots and bell pepper to the vinaigrette. Let marinate for at least 10 minutes and up to 1 hour.

Add apple, cucumber, Treviso (or radicchio), arugula and cabbage to the bowl; toss to coat. Add feta cheese and almonds and toss to combine.

Yield: 8 servings
One year ago: Key Lime Pie Ice Cream
Two years ago: Ultimate Banana Bread
Three years ago: Mojitos
Four years ago: Crispy Southwestern Baked Chicken


Print This Recipe