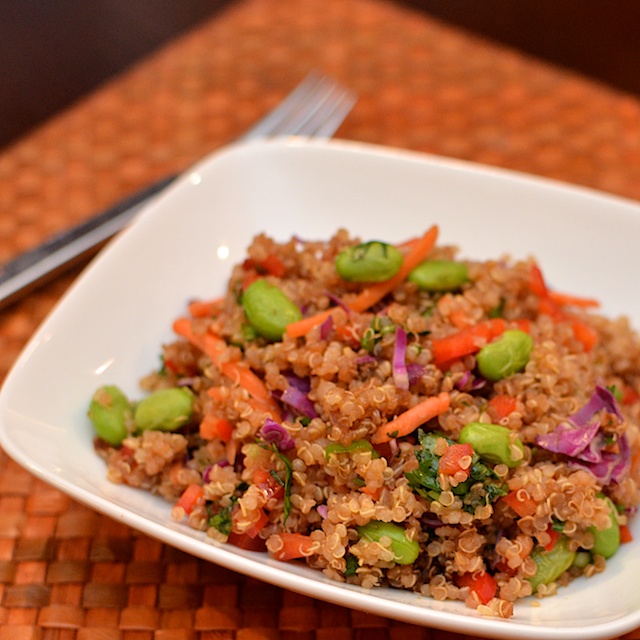 There's nothing like a good quinoa dish and this is one that's quick enough to make on a weekday evening.  The part of the recipe that takes the longest is chopping the vegetables.  The quinoa itself cooks quickly, and you can whisk the dressing together in a flash.
I thought this was delicious.  I love Asian flavors and I added a little extra ginger, so its flavor was very evident in the dressing.   My husband liked the salad, but he called it "virtuous" which to him means it's oozing healthful goodness.   The kids wouldn't go near it until I made them.   Not one of them liked it, although the amount that they tried was so miniscule that I wonder if they really tasted it at all.
This is another salad that you can play with.   Add more or less of the vegetables to suit your taste or what you happen to have kicking around in your refrigerator.   I didn't have a cucumber, so I left it out.  I really like carrots, so I doubled them.  I added some extra edamame too.  Add some corn if you like it and have it.  This recipe will become part of my regular side dish rotation.
Asian Quinoa Salad
Recipe from Two Peas and Their Pod

1 cup quinoa
2 cups water
1/4 teaspoon salt
1 cup chopped red cabbage
1 cup shelled and cooked edamame
1 red bell pepper, chopped
1/2 cup shredded carrots
1 cup diced cucumber

Dressing:
1/4 cup lite soy sauce or tamari sauce
1 tablespoon sesame oil
1 tablespoon rice wine vinegar
2 tablespoons chopped green onion
1/4 cup chopped cilantro
1/4 teaspoon grated ginger
1/8 teaspoon red pepper flakes
Salt and black pepper, to taste

Cook the quinoa according to the package directions. This typically means to bring the quinoa, water and salt to a boil. Once boiling, cover and reduce the heat so the quinoa simmers. Simmer for 15 minutes or until all of the water is absorbed. You'll notice that the quinoa looks like it has sprouted when its cooked. Fluff the quinoa with a fork.

Place the quinoa in a large bowl and add the cabbage, edamame, red pepper, carrots, green onions and cucumber. Set aside.

Make the dressing.  In a small bowl, whisk together the soy sauce, sesame oil, rice wine vinegar, cilantro, ginger, red pepper flakes, salt, and pepper.

Pour the dressing over the salad and stir to combine.

Yield: 4 servings

One year ago: Malted Chocolate Madeleines
Two years ago: Ground Turkey Shepherd's Pie
Three years ago: Shortbread Candy Bars
Four years ago: Joanna Pruess' Molasses Spice Cookies
Five years ago: Cheddar Apple Frittata

Print This Recipe