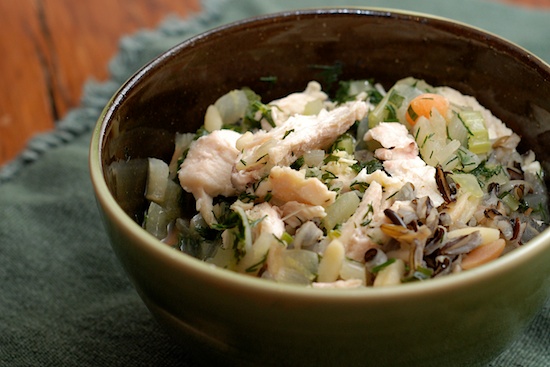 According to Rachel Ray, a stoup is a cross between a soup and a stew. I love hearty soups like this, and this one is delicious. The fresh herbs and the lemon zest add a nice punch of fresh flavor. I had been looking for a good chicken soup recipe, and this is it. I need to look no further.   This is one of the best chicken soups I've ever had.   It's seriously delicious.
The recipe calls for long grain white rice. I didn't have any, but I did have some wild rice that I decided to use instead. I love to eat up little bits of things that I have hanging around in my cabinets. The wild rice was delicious in this soup.  If you make this, don't skip the fresh herbs or the fresh lemon zest.
I've had a cold all week and there's nothing better than a warm bowl of chicken soup (or stoup) when you're under the weather.   I can't wait to make this again.  

Chicken and Rice Stoup
Recipe from Everyday with Rachel Ray


1 pound skinless, boneless white- or dark-meat chicken
2 onions, 1 quartered and 1 chopped
1 bay leaf
1 tablespoon butter
1/3 cup orzo pasta
3/4 cup long grain white rice
4 cups chicken stock (32 ounces), divided
1 tablespoon extra virgin olive oil (EVOO )
2 ribs celery from the heart, chopped into 1/4-inch pieces
1 carrot, peeled and chopped into 1/4-inch pieces
Salt and pepper
A few sprigs of thyme, finely chopped
A small handful of fresh dill, finely chopped
A small handful of fresh parsley, finely chopped
2 teaspoons grated lemon peel

Place the chicken in a small pot and add enough water to just barely cover it, 2 1/2-3 cups. Add the quartered onion and the bay leaf; cover and bring to a boil. Uncover the pot, lower the heat and simmer to cook through, about 10 minutes. Transfer the chicken to a bowl, then shred with two forks. Reserve the cooking liquid.

Meanwhile, in a large saucepan, melt the butter over medium heat. Add the orzo and cook, stirring often, until golden, 2-3 minutes. Stir in the rice, then add 2 cups chicken stock and bring to a boil. Lower the heat to low, cover and cook until the rice is tender, about 15 minutes. (Cooking the rice separately from the soup lets you add it to the liquid when you're ready to eat so that it doesn't overcook.)

In a medium size soup pot, heat the EVOO, one turn of the pot, over medium-high heat. Add the chopped onion, celery and carrot; season with salt and pepper. Cook until the vegetables are tender, about 5 minutes. Strain in the reserved cooking liquid and the remaining 2 cups chicken stock and bring to a boil. Stir in the thyme, dill, parsley and lemon peel.

To serve, pile the chicken and rice in bowls and top with the broth.

Yield: 4 servings

One year ago: Sugar Crusted Popovers
Two years ago: Whoopie Pies
Three years ago: Lasagna with Pink Sauce, Leeks and Sausage

Print This Recipe