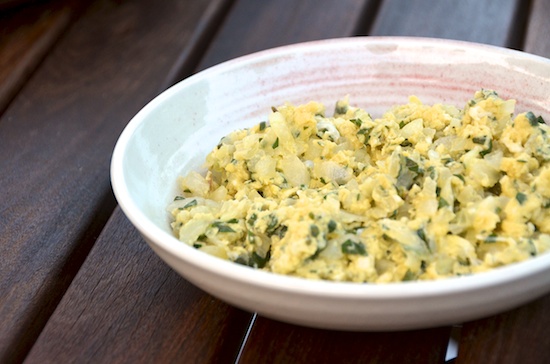 Yesterday I was challenged by my CSA to share a recipe using purslane. Having never cooked with purslane before, I turned to the internet for inspiration and learned quite a few things.
Here in the Northeast, we treat purslane as a weed. In other parts of the world, like Europe, the Middle East, Asia and Mexico, it is eaten as a leafy green. In India it's used extensively and is called Sanhti, Punarva, or Kulfa.
According to Dr. Oz, purslane is used in America to treat arthritis in horses, and it's a popular vegetable in Turkey! Purslane is loaded with vitamins A, C, E and Coenzyme Q10. This strong antioxidant cocktail helps to protect the skin against environmental damage. Dr. Oz recommends mixing purslane with yogurt and garlic.
From all I've read, I've learned that purslane leaves are high in Omega-3 fatty acids, containing more omega-3s than some fish oil. Purslane is also higher in beta-carotene than spinach. It's full of vitamins as well. It certainly packs a nutrient-rich punch.
Purslane has an interesting taste. It reminded my husband of spinach. I think it's a little more spicy/peppery than that. I really like it. If you come across any at your local farmer's market, I recommend giving it a try.
Before cooking with it, make sure it's washed thoroughly. I put mine in a water/vinegar bath and then rinsed it very well before using it. I like the leaves and some of the thinner, tender stems, although the thicker stems are fine to eat as well. I just don't prefer them.
This egg dish is truly delicious. I served it as a side dish for dinner. It could have as easily been served for breakfast or lunch.
One of my boys tried this.   Double thumbs down.
Eggs with Purslane (Huevos con Verdolagas)

1 – 2 Tablespoons butter
½ cup finely chopped Vidalia onion (or any other sweet onion)
½ cup purslane leaves
3 eggs, beaten
salt and pepper
Optional topping: salsa

Heat butter on medium high heat in a medium-sized skillet. Add onion and purslane and sauté for several minutes until onions begin to soften and purslane wilts slightly. Add eggs and stir gently to keep from sticking as with scrambled eggs. Continue cooking until eggs are firm. Season to taste with salt and pepper. Serve with salsa, if desired.

Yield: 2 servings

One year ago: Strawberry and Rosemary Scones
Two years ago: Peanut Butter Cream Pie
Three years ago: Lemon Buttermilk Ice Pops

Print This Recipe