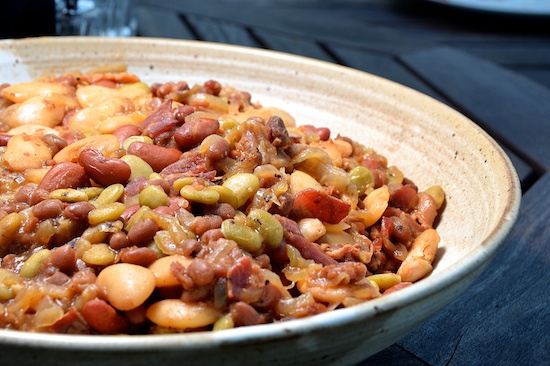 These don't look like your traditional baked beans, but they taste just like them. I think it's the combination of the brown sugar and vinegar. My Aunt Carole made these for a cookout we had in Maine a couple of weeks ago and I ate at least four servings in one sitting. Who knew baked beans could be that good? I remember adoring them as a child, but I always watched closely for that big hunk of fat which was always hidden somewhere in the can. I never liked that part. When you make this I recommend that you cook the bacon until it's very crispy so you don't end up with mushy bacon in the beans, much like the salt pork in canned beans.
Allow yourself some time when making these beans. They too me about 45 minutes to put together, then another hour and 20 minutes to cook, but if you have the time and the inclination, they're well worth the effort.
This recipe comes from Southern Living magazine and is the 2012 Side Dish Smackdown Winner: Best Baked Beans. I can see why they're award wining. I got one of my sons to try the beans. He questioned why they were award winning. He questioned why the recipe was published at all.

Grandma Gwen's Baked Beans
Recipe from Southern Living, June 2012

1 (1-lb.) package bacon slices
4 medium-size yellow onions, sliced
1/2 cup firmly packed light brown sugar
1/2 cup apple cider vinegar
1 teaspoon salt
1 teaspoon dry mustard
1/2 teaspoon garlic powder
2 (16-oz.) cans butter beans, drained and rinsed
1 (15-oz.) can lima beans, drained and rinsed
1 (16-oz.) can kidney beans, drained and rinsed
1 (28-oz.) can baked beans

Preheat oven to 350°. Cook bacon, in batches, in a large skillet over medium-high heat 8 to 10 minutes or until crisp. (Cook's note: I cooked four for five pieces of bacon in the skillet. Just enough to leave some bacon grease in the pan. I microwaved the rest of the bacon until it was very crisp.) Remove bacon from the skillet, and drain on paper towels, reserving desired amount of drippings in skillet. (I left about 3 Tablespoons of bacon fat in the pan.) Crumble bacon and set aside.

Sauté onions in hot drippings over medium heat 8 to 10 minutes or until onions are tender. Add brown sugar and next 4 ingredients. Cover and cook 20 minutes. Combine butter beans, next 3 ingredients, bacon, and onion mixture in a 13- x 9-inch baking dish. Bake at 350° for 1 hour.

Yield: 8 – 10 servings

One year ago: Homemade Ricotta Cheese
Two years ago: Gina's Summer Tomato Pie
Three years ago: Lemon Muffins

Print This Recipe