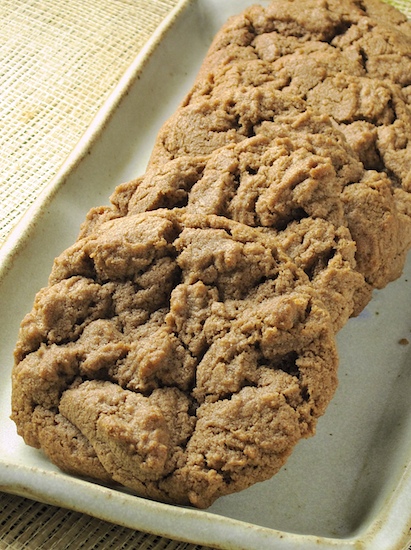 I made these cookies last night and I can't stop eating them. I usually make cookies and eat one or two then save the rest for the boys.   There's something about these cookies that I really love. I'm not sure exactly what it is, but every time I pass the cookies I want to eat one.
Although they're called biscotti, they're actually more like a crispy drop cookie. This recipe came from a cookbook called Giada's Kitchen, New Italian Favorites, that I borrowed from the library. The notes associated with this recipe said that Giada's grandmother used to make these cookies for her, and that her grandmother always called them biscotti, and so she does too.
I'm not a huge hazelnut fan, so I left the toasted hazelnuts out of this recipe.  I'm actually not a huge Nutella fan either, but the cookies don't have a strong Nutella taste which works for me.  Our triplets are huge Nutella fans and they ask for a Nutella sandwich to be sent to school for lunch once a week.
Next time I make these I may substitute chocolate or white chocolate chips for the nuts.
Chocolate Hazelnut Biscotti
Recipe from Giada's Kitchen, New Italian Favorites, by Giada De Laurentiis

1 1/3 cups all-purpose flour
1/2 teaspoon baking powder
1/2 teaspoon baking soda
1/4 teaspoon kosher salt
1/2 cup butter, softened
1/2 cup chocolate hazelnut spread (recommended: Nutella)
1/2 cup sugar
1/2 cup brown sugar
1 egg
1 teaspoon vanilla extract
3/4 cup chopped toasted hazelnuts (optional)

Preheat the oven to 375 degrees F.

In a medium bowl combine the flour, baking powder, baking soda, and salt. Set aside.

In another medium bowl combine the butter, chocolate hazelnut spread, sugar, and brown sugar. Using an electric mixer, cream the ingredients together, about 4 minutes. Add the egg and vanilla and beat until smooth, about 1 minute. Using a wooden spoon or rubber spatula, stir in the flour mixture until just combined. Add the hazelnuts (if using) and stir until just combined.

Using a tablespoon measure, spoon out the cookie dough onto a cookie sheet, spacing the mounds about 4 inches apart. Use the tines of a fork to flatten the cookie dough. Bake until lightly golden around the edges, about 10 to 12 minutes. Use a metal spatula to transfer the cookies to a wire rack and let cool.

Yield: 36 cookies

Print This Recipe