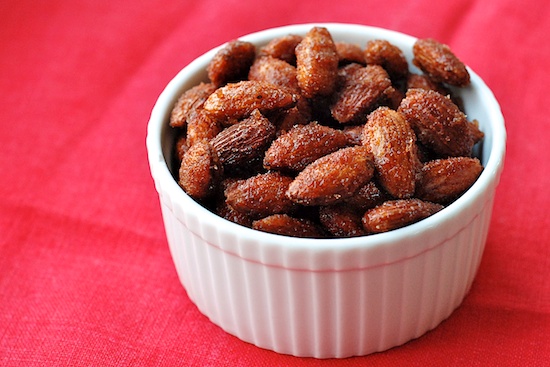 These nuts are a great snack to have around the house during the holidays.   They're great to serve if friends drop by. They're also perfect as a hostess gift. Everyone likes spiced nuts! These are both sweet and salty, which is one of my favorite combinations of flavors. Enjoy!
Oh, I almost forgot. Did the boys like them? One out of four thought they were 'just ok'. The rest gave them a thumbs-down. Isn't that crazy?   These nuts are delicious and addictive!
Honey Roasted Almonds
Recipe adapted from Cooks.com
2 c. whole almonds, skins on
1/4 cup sugar
1/2 teaspoon salt
3/4 teaspoon pumpkin pie spice
2 Tablespoons honey
2 Tablespoons water
2 teaspoons canola or vegetable oil
Spread the almonds in a single layer in a shallow ungreased baking pan and place in a cold oven.  Set the timer for 12 minutes and heat the oven to 350 degrees.   Halfway through the twelve minutes, stir the nuts.   The oven should reach 350 degrees before the timer goes off.  You want to cook the nuts until they are light tan on the inside.    You may need to cook them for up to 15 minutes.   When done, remove the nuts from oven and set aside.
Mix the sugar, salt and pumpkin pie spice in a bowl.  Stir together the honey, water and oil in a medium size pan and bring to a boil over medium heat. Stir in the roasted almonds and continue to cook and stir until all the liquid has been absorbed by the nuts (about 5 minutes). Immediately transfer the nuts to a medium bowl and sprinkle the sugar mixture over the nuts  and toss. Spread on waxed paper and cool.
Yield:  2 cups of nuts

Print This Recipe