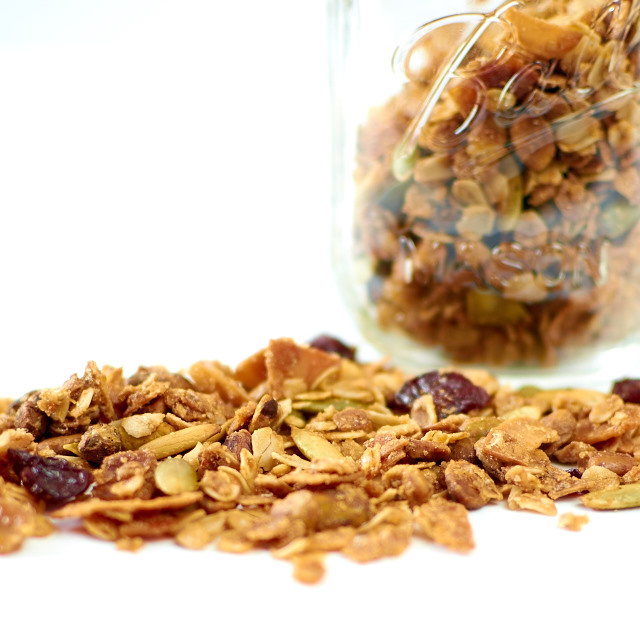 There's a wonderful restaurant nestled on the edge of Madison Square Park in Manhattan where I'm told you get to take home some delicious granola at the end of your meal. The restaurant is called Eleven Madison Park. I have eaten there several times for business, but the meals were years ago, when Danny Meyer owned the restaurant, and before Chef Hamm started doling out granola at the end of your meal. How wonderful to be given something to eat for breakfast as you finish your dinner.
Speaking of being given something for breakfast, I just read an article that said one of the best hostess gifts to bring to a dinner party is something for the hosts to eat for breakfast the next morning. If they have slaved over a big, beautiful dinner, the last thing on their minds is cooking something for breakfast the next morning. I think a nice Mason jar full of this granola is make a perfect hostess gift.
I know I have a couple of granola recipes on this site, and I like them all, but this is my current favorite. I think it's the tart cherries in combination with the toasted coconut chips that do it for me. The salt isn't a bad addition either. One of my friends thought this granola was a little too salty for his taste, but I love it. I love the salty and sweet combination.
If you happen to live near a Trader Joe's your in luck because they have everything you need to make this granola, right down to the dried sour cherries and coconut chips, which you might not always find at your local supermarket. Don't be tempted to substitute the coconut chips with sweetened, flaked coconut, which you can find anywhere. The coconut chips make this granola special. If you're not familiar with coconut chips, they're nothing like a coconut version of chocolate chips. Coconut chips are dried coconut shavings that sometimes have a little salt and sugar added when they're dried.
When I make this granola, it doesn't stick around in my kitchen for long.
Eleven Madison Park Granola
Recipe from NY Times Cooking

2 3/4 cups rolled oats
1 cup shelled pistachios
1 cup unsweetened coconut chips
1/3 cup pumpkin seeds
1 tablespoon kosher salt
1/2 cup light brown sugar
1/3 cup maple syrup
1/3 cup extra virgin olive oil
3/4 cup dried sour cherries

Preheat oven to 300. In a large bowl, mix together the oats, pistachios, pumpkin seeds and salt. Keep the coconut chips aside. You will add them during the last 10 minutes of baking.

In a small saucepan set over low heat, warm the sugar, syrup and olive oil until the sugar has just dissolved, then remove from heat. Fold liquids into the mixture of oats, making sure to coat the dry ingredients well.

Line a large rimmed baking sheet with parchment paper or a silicone baking mat, and spread granola over it. Bake until dry and lightly golden, 35 to 40 minutes, stirring granola a few times along the way. Approximately ten minutes before the baking is complete, toss the coconut chips into the granola. Stir to combine. Cook for approximately 10 minutes more. Watch the coconut so it doesn't get too dark. The coconut is done when it is just starting to brown lightly. Don't let the granola get too dark, or it will taste burned.

Remove granola from oven, and mix into it the dried sour cherries. Allow to cool to room temperature before transferring to a storage container.

Yield: ~6 cups

Two years ago: Lemon Scones
Three years ago: Nutella Chocolate Cookies
Four years ago: Holiday Biscotti
Five years ago: Individual Beef Wellingtons with Mushroom, Spinach and Blue Cheese Filling
Six years ago: Quinoa Pilaf with Pine Nuts
Seven years ago: The Ultimate Quiche

Print This Recipe