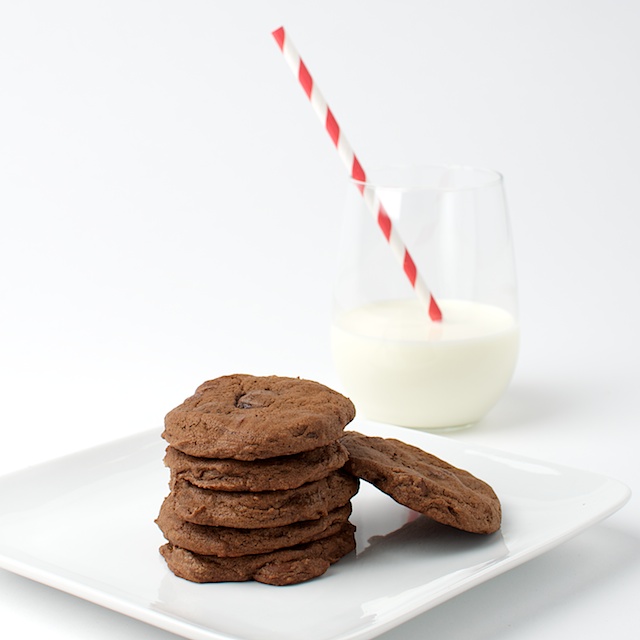 If you're a fan of chocolate and peanut butter cups, these cookies are for you! They're very easy to make – as easy as making chocolate chip cookies. I bought a container of mini peanut butter cups from Trader Joe's and they were exactly the right size for this recipe. We all loved these cookies. They're chocolatey and soft, almost like brownie cookies. I'm going to put some of them in the freezer because my husband suggested that they'll be excellent frozen. We love to eat our chocolate chip cookies frozen; I know these will be great frozen too.
The cookie directions call for flattening the cookies prior to putting them in the oven. Wet your fingers before you do this. Moist hands will prevent the cookie dough from sticking to your hand too much.
Pour yourself an ice-cold glass of milk and enjoy.
Chocolate Peanut Butter Cookies
Recipe from King Arthur Flour

1 1/2 cups King Arthur Unbleached All-Purpose Flour
1/2 cup unsweetened baking cocoa or Dutch-process cocoa
1/2 teaspoon baking soda
1/4 teaspoon salt
1/2 cup granulated sugar
1/2 cup brown sugar
1/2 cup (8 tablespoons) unsalted butter, softened
1/4 cup smooth peanut butter
1 teaspoon vanilla extract
1 large egg
2 tablespoons water
1 1/2 cups mini peanut butter cups

Preheat the oven to 375°F. Lightly grease (or line with parchment) two baking sheets.

In a medium-sized bowl, whisk together the flour, cocoa, baking soda, and salt. In another bowl, beat together the sugars, butter, and peanut butter until light and fluffy. Beat in the vanilla, egg, and water, then stir in the dry ingredients, blending well. Gently stir in the mini peanut butter cups.

Scoop rounded tablespoonfuls of dough onto the prepared baking sheets. Flatten each cookie to about 1/2″ thick.

Bake the cookies for 7 to 9 minutes, or until they're set and you can smell chocolate. Remove them from the oven, and cool on a rack.

Yield: ~ 36 cookies

One year ago: Salted Apple Cider Caramels
Two years ago: Cornmeal-Crusted Tofu
Three years ago: Cinnamon Sugar Biscotti
Four years ago: No Knead Bread
Five years ago: Broccoli Salad

Print This Recipe