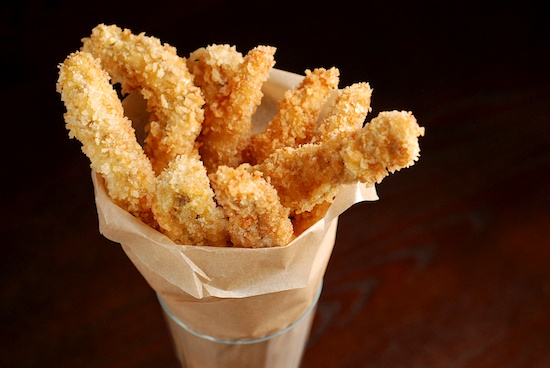 Ok, I'm a little embarrassed to say that these chicken fingers are deep fried, but let me tell you, they are the best chicken fingers I have ever eaten, never-mind made. The seasoning on the chicken is amazing and they're nice and crunchy. They're also delicious hot or cold and surprisingly not greasy. Now if they were only baked…
The recipe comes from a Chinese restaurant in Winnipeg, Canada called Mitzi's. They're known for these chicken fingers. I understand that people come from far and wide to eat them.
So I must admit that I have never deep fried anything before, but to be honest, it's easier than pan-frying. It doesn't make nearly the mess that pan-frying does. I kept a thermometer in the oil to make sure that the temperature remained at 325, and the chicken didn't splatter or spit at all when I put it into the oil. I thought deep-frying was going to make a big mess, but it really didn't. Deep frying is also fast. I heated the oil in a dutch oven on the stove and I was able to put 5 or 6 chicken fingers into the oil at once. At 3 minutes, they were cooked perfectly.
I'm dreaming of the chicken fingers as I write this. They were that good. I might actually make another batch tomorrow.
Mitzi's Chicken Fingers
Recipe from Saveur.com
2 lb. boneless, skinless chicken breasts, cut into 3″-long-by-1″-wide strips
1 tbsp. sugar
1 tbsp. kosher salt
1 tbsp. freshly ground black pepper
1½ tsp. garlic powder
1 tsp. paprika
1 tsp. dry mustard powder
1 cup flour
4 eggs, lightly beaten
3 cups finely ground fresh breadcrumbs or panko
Canola oil, for frying

In a medium bowl, toss together chicken, sugar, salt, pepper, garlic powder, paprika, and mustard; set aside. Place flour, eggs, and breadcrumbs in 3 separate shallow dishes; set aside. Pour oil to a depth of 2″ into a 6-qt. Dutch oven; heat over medium-high heat until deep-fry thermometer reads 325°. Working in batches, coat chicken in flour, shake off excess, and dip in eggs; coat in breadcrumbs. Fry chicken until golden brown and crisp, about 3 minutes. Transfer to paper towels to drain. Repeat with remaining chicken. Serve with dipping sauce.

Yield: 4 – 6 servings

Print This Recipe