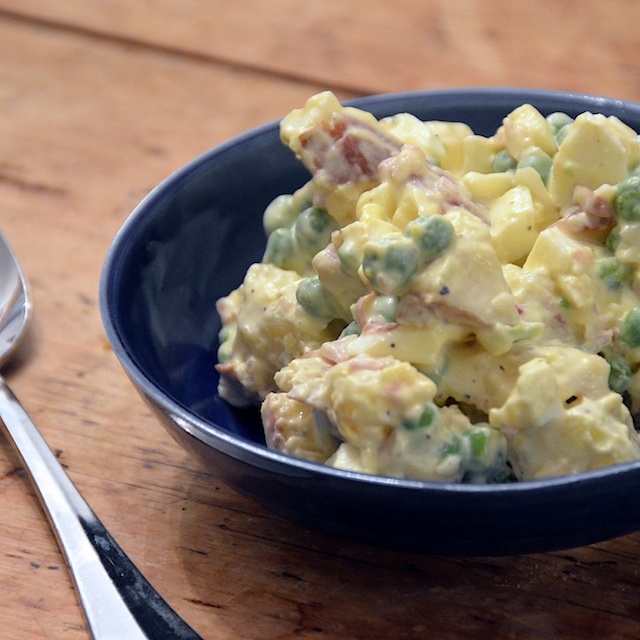 If you're looking for a classic potato salad recipe made with both mayonnaise and eggs, this is the recipe for you. I have a number of different potato salad recipes on this site, but this is definitely one of my favorites. I love the eggs and the peas in it and the dressing is really delicious because it's a tiny bit sweet.
I made this using red new potatoes and decided not to peel them. I substituted 3 small red potatoes for each of the medium potatoes called for in the recipe.
I've  made this numerous times recently and received great reviews from guests. My father even liked it and he claims that he doesn't like potato salad with eggs.

Classic Potato Salad with Peas
Recipe adapted from MissNezz at Food.com

8 medium potatoes
1 1/2 cups mayonnaise
2 tablespoons cider vinegar
2 tablespoons sugar
1 tablespoon Dijon mustard (you can also use yellow mustard)
1 teaspoon salt
1/2 teaspoon pepper
2 celery ribs, sliced (optional)
1/2 cup minced shallot
5 hard-boiled eggs, chopped
1 cup frozen peas, thawed

Peel potatoes. Boil potatoes in salted water until done (until you can pierce easily with a fork). Cool to room temperature. Cut potatoes into bite-sized pieces (about 1″- 1.5″ chunks). Place potatoes in a large bowl.

Make dressing by mixing mayonnaise, cider vinegar, sugar, mustard, salt and pepper in another bowl. Stir in the minced onions.

Pour as much dressing as you need onto the potatoes and stir gently. You may not need all of the dressing. Stir in celery if using. Stir in eggs and peas. If any dressing remains, add as necessary. Refrigerate until ready to serve.

Yield: 8 servings

One year ago: Chocolate Fudge Zucchini Cookies
Two years ago: Honey Cornbread Muffins
Three years ago: Pork Chops with Peach-Ginger Chutney
Four years ago: Blueberry Crumb Bars
Five years ago: Decadent Brownie Tart

Print This Recipe