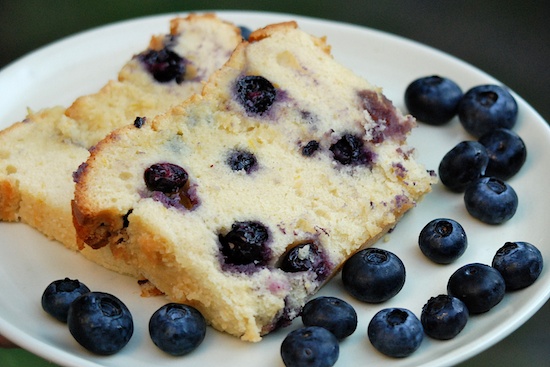 This pound cake is really delicious. It's dense, moist and very flavorful. I didn't have wild blueberries, but I did have a quart of fresh blueberries, and they worked perfectly in this recipe.
I had a little trouble getting the pound cake out of the pan, so next time I'll make sure the pan is very generously greased, or I might even grease and flour it. I also found that even though I used fresh berries, the cake took about 80 minutes to cook. If your cake isn't done in the specified time, keep setting the timer in 5 minute increments and test the cake each time the timer goes off. You don't want to burn the cake, but you definitely want to make sure it's cooked. There's nothing worse than a cake that looks cooked on the outside, but sinks when you take it out of the oven to cool.
This cake disappeared within a day of making it.
Cream Cheese and Wild Blueberry Pound Cake
Recipe from Fine Cooking, April 2001

6-3/4 oz. (1-1/2 cups) all-purpose unbleached flour
1/2 tsp. baking powder
1/2 tsp. salt
3 oz. cream cheese, at room temperature
4 oz. (1/2 cup) unsalted butter, slightly soft
1-1/2 cups sugar
4 large eggs, at room temperature
1 tsp. pure vanilla extract
1 tsp. grated lemon zest
1 cup wild blueberries

Preheat the oven to 325°F. Spray a loaf pan that's about 8 x 5 x 3 inches generously with a nonstick spray. Make sure the pan is covered completely with the nonstick spray.

Whisk together the flour, baking powder, and salt until well blended. With an electric mixer (I use the paddle attachment on my stand mixer), beat the cream cheese and butter until very pale. Add the sugar and beat until slightly fluffy. Scrape the sides of the bowl well. Add the eggs one at a time, beating until blended before adding the next. With the mixer on low, add the flour, vanilla, and lemon zest, and mix until almost incorporated but not quite. Switch from the mixer to a stiff rubber spatula and mix just until the batter is well blended and smooth, taking care to scrape the bowl's bottom and sides. Gently fold in the berries.

Scrape the batter into the loaf pan and bake in the middle of the oven until the cake is golden brown and a toothpick comes out with just a few crumbs clinging to it when inserted in the center, 60 to 65 minutes if using fresh berries, 75 to 90 minutes if using frozen. Let the cake cool for about 15 minutes and then invert the pan and lightly tap it to release the cake. Cool completely on a rack before serving.

Yield: 1 loaf

One year ago: Carole's Whipped Cream Pie
Two years ago: Union Square Cafe Bar Nuts
Three years ago: Grilled Salmon with Sweet Corn, Tomato and Avocado Relish

Print This Recipe