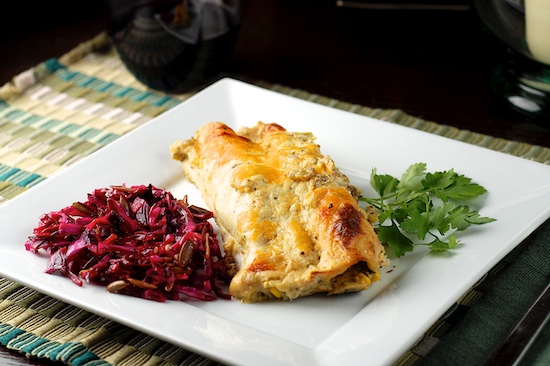 This meal was surprisingly delicious.   There's something about the creamy sauce on the vegetarian enchiladas paired with the savory cabbage slaw that makes this meal comforting and delightful.   I was skeptical when I made it because it doesn't call for any spices or strong flavors like garlic, onion, cumin, etc.  I thought it might be bland, but boy was I wrong.  This is a perfect weeknight dinner because you can assemble the whole thing in advance, then throw it in the oven a half hour or so before you're ready to eat.
I made 8 small enchiladas and put them in an 11″ x 7″ Pyrex dish.    I wrapped them tightly and had to the squeeze the last one in to get it to fit, but although tight, all eight fit perfectly.  A 13″ x 9″ baking dish would have given them a little more room.
I used flour tortillas instead or corn because I prefer them.
My husband loved this dish and asked that we have it again soon.     This will definitely become part of our regular dinner rotation.  Now if I could only get the boys to eat it.
Creamy Spinach Enchiladas with Red Cabbage Slaw
Recipe adapted from Real Simple

1  10-ounce package frozen chopped spinach, thawed and squeezed dry
1  cup frozen corn, thawed
6  ounces  Cheddar, grated (1 1/2 cups)
2  4.5-ounce cans chopped green chilies
1/2  cup  heavy cream
1/2 cup reduced fat sour cream
kosher salt and black pepper
8  6-inch corn tortillas, warmed or 6-inch flour tortillas at room temperature
1/4 small red cabbage, thinly sliced (about 4 cups)
2  scallions, thinly sliced
1/4 cup pepitas (roasted hulled pumpkin seeds)
2  tablespoons olive oil
2  tablespoons  fresh lime juice (from one lime)

Heat oven to 400° F. In a medium bowl, mix together the spinach, corn, 1 cup of the Cheddar, and 1 can of the chilies. In a small bowl, stir together the cream, the sour cream, the remaining can of chilies, ¾ teaspoon salt, and ¼ teaspoon pepper.  Spread a very, very thin layer of cream sauce on the bottom of the baking dish.

Dividing evenly, roll up the spinach mixture in the tortillas (about ⅓ cup per tortilla). Place seam-side down in a shallow baking dish.  Us an 11″ x 7″ dish if you want them really packed in tightly.  For more room, use a 13″ x 9″ baking dish.  Top with the cream sauce and the remaining ½ cup of Cheddar. Cover with foil and bake until bubbling, 15 to 20 minutes. Uncover and bake until golden, 10 to 15 minutes more.

Meanwhile, in a large bowl, toss the cabbage and scallions with the pepitas.  Whisk the olive oil, lime juice, and ¼ teaspoon each salt and pepper together.  Pour onto the cabbage and toss.  Serve with the enchiladas.

Yield:  3 – 4 servings

One year ago: Banana Chocolate Chip Muffins
Two years ago: Roasted Vegetable Frittata
Three years ago: Moroccan Spiced Chickpea Soup
Four years ago: Lima Bean Soup with Parmesan Bacon Crisp

Print This Recipe