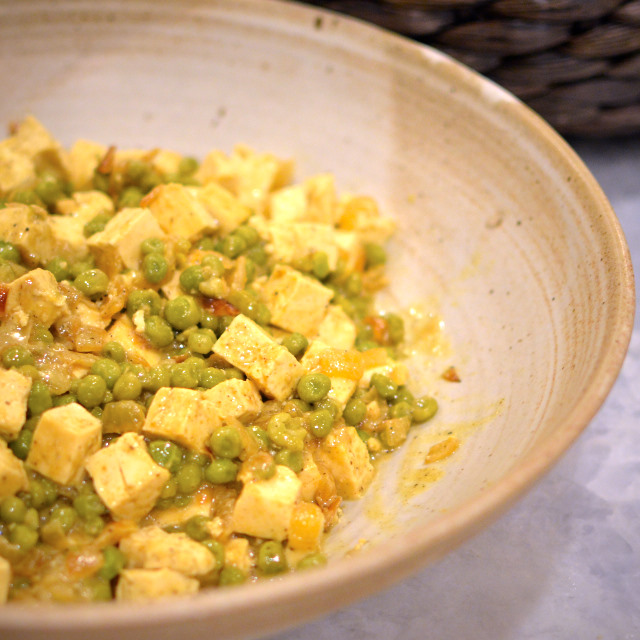 This photo was taken right before I served it as a side-dish, although it would have been perfectly suited as a vegetarian entree as well if served over rice. There was no time to set up lighting, thus the yellow-tinge of the photo. Don't let the picture turn you off, this is a really tasty dish. Here's a much better picture of what it actually looks like.
I love dishes that have curry and coconut milk in them. The original recipe called for cumin and curry powder. I didn't have any curry powder on hand, but I did have a great spice blend that I used in lieu of both the cumin and the curry powder that were called for in the recipe. I used Penzy's Singapore Seasoning. I added 2.5 teaspoons of it to the recipe instead of the curry and cumin.
I've made this recipe several times. It's becoming part of our regular rotation. Once this summer, I didn't have firm or extra firm tofu on hand, but I did have silken tofu, so I tried it. Big mistake. It's so soft I was barely able to cut it into cubes. I lacks structural integrity and is therefore a very poor choice for this recipe. Stick to the firm or extra-firm tofu, no matter how inexpensive a giant box of silken tofu is at Costco.
Curried Peas and Tofu
Recipe from Fine Cooking

2 Tbs. olive oil
1/2 medium yellow onion, coarsely chopped
2 1/8-inch-thick slices fresh ginger, smashed
1 clove garlic, smashed
Kosher salt
2 tsp. mild curry powder
1/2 tsp. ground cumin
2/3 cup stirred coconut milk
1 cup shelled fresh peas or frozen peas, thawed
1 14- to 17-oz. package firm or extra-firm tofu, drained and cut into 1/2-inch cubes
1 tsp. fresh lime juice

Heat the olive oil in a 3- to 4-quart saucepan over medium-high heat. Add the onion, ginger, garlic, and 1 tsp. salt; cook, stirring occasionally, until the onion is starting to color, about 5 minutes. Add the curry powder and cumin; cook, stirring, until fragrant, about 30 seconds.

Turn the heat up to high, add the coconut milk, and bring to a boil. Add the peas and tofu; cover and simmer, stirring occasionally, until the peas are just tender and the tofu is heated through, about 3 minutes. Discard the ginger and garlic, stir in the lime juice, and season to taste with salt. Serve with warm naan or over rice.

Yield: 4 servings as a main course

One year ago: Rosemary Butter Cookies
Two years ago: Southwestern Chopped Chicken Salad
Three years ago: German Potato Salad
Four years ago: Cottage Cheese Pancakes
Five years ago: Fresh Pear Pie with Dried Cherries and Brown Sugar Streusel
Six years ago: Lemon Chamomile Shortbread
Seven years ago: Creamless Creamy Tomato Soup

Print This Recipe