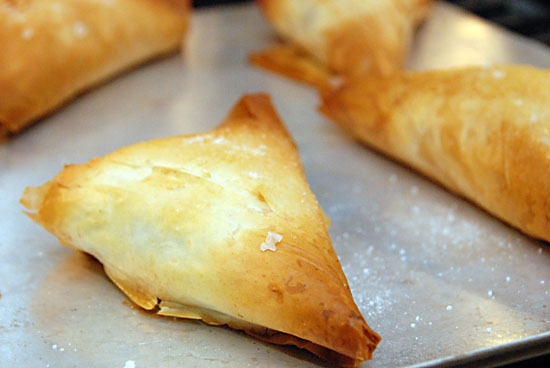 I needed another non-meat meal for Good Friday so I decided to launch into spanakopita, Ina Garten-style.  I'm going to sing her praises once again.   I truly don't think I've had bad luck with any of her recipes, and I've tried many.    The photos in her cookbooks are beautiful and the recipes are very easy to follow.   With the exception of her being heavy-handed with salt, I love all of her food!
This is a nice recipe because although a bit time-consuming, it makes 12 strudels and if you're not serving them all at once, they freeze very nicely.   I pulled a couple out of the freezer last night for a simple dinner, and they baked perfectly.   I typically see spanakopita served as an hors d'oeuvre, and having just gone through the labor-intensive process of making these, I'm glad they were big!   I can't imagine making lots of tiny ones.
Ina's original recipe calls for 2 teaspoons of salt.  I knocked it down to 1 teaspoon because I found the feta to be on the salty side and 2 teaspoons of salt on top of salty cheese is way too salty for me.   It makes me happy to know that I have a bunch of these frozen in the freezer for a quick lunch or dinner.   Yum!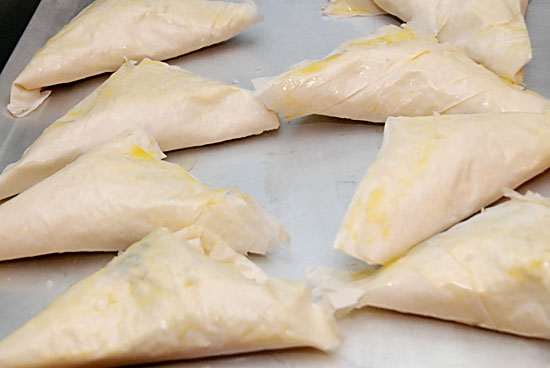 Dinner Spanakopita
From Back to Basics by Ina Garten


1/4 cup good olive oil
1 cup chopped yellow onions
3 scallions, white and green parts, chopped
2 (10 ounce) packages frozen chopped spinach, defrosted
4 eggs, lightly beaten
3 tbsp. freshly grated Parmesan cheese
Plain dry bread crumbs
1 tsp. freshly grated nutmeg
1 tsp. kosher salt
1 tsp. freshly ground black pepper
2 cups small-diced feta cheese (12 oz.)
3 tbsp. toasted pine nuts
24 sheets frozen filo dough, defrosted
1/4 pound (1 stick) unsalted butter, melted
Flaked sea salt, such as Maldon, for sprinkling

Preheat the oven to 375 degrees.

Heat olive oil in a medium saute pan. Add the onion and cook for 5 minutes. Add the scallions and cook for another 2 minutes until the scallions are wilted but still green. Meanwhile, gently squeeze most of the water out of the spinach and place it in a large bowl.

When the onion and scallions are done, add them to the spinach. Mix in the eggs, Parmesan cheese, 3 tbsp. bread crumbs, the nutmeg, salt, and pepper. Gently fold in the feta and pine nuts.

Place on sheet of filo dough flat on a work surface with the long end in front of you. Brush the dough lightly with butter and sprinkle it with a teaspoon of bread crumbs. Working quickly, slide another sheet of filo dough on top of the first, brush with butter, and sprinkle lightly with bread crumbs. (Use just enough bread crumbs so the layers of filo don't stick together.) Pile 4 layers on top of each other this way brushing each with olive oil and sprinkling each with bread crumbs.

Cut the sheets of filo in thirds lengthwise. Place 1/3 cup spinach filling on the shorter end and roll the filo up diagonally as if folding a flag. They fold the triangle of filo over straight and then diagonally again. Continue folding first diagonally and then straight until you reach the end of the sheet. The filling should be totally enclosed. Continue assembling phyllo layers and folding the filling until all of the filling (or all of the phyllo) is used.    Place on a sheet pan, seam sides down.   Brush with melted butter, sprinkle with flaked salt, and bake for 30 – 35 minutes, until the phyllo is browned and crisp.   Serve hot.

If you would like to save the strudels for future use, once they are completely assembled, wrap each one in plastic wrap and freeze until ready to use.


Yield:  12 strudels