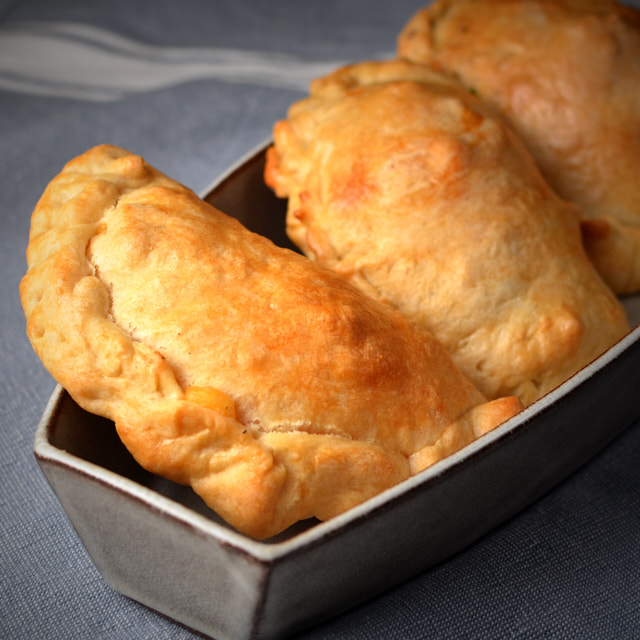 Empanadas have been part of our regular dinner rotation for a while now. The boys LOVE them – well, three out of four boys love them. One still primarily eats yogurt and peanut butter sandwiches. Now, wouldn't you think it was easy to make a meal that three out of four boys eat? Well, it is, kind of. The dough is the same for all three, but the empanada fillings are vastly different. One gets filled with tofu and spices, one with cheese of various varieties and the last with sautéed ground turkey and broccoli. Broccoli was a new addition as of yesterday, so I guess we're progressing a tiny bit in the eating department. My next goal will to get broccoli into the tofu and cheese empanadas. Wish me luck.
This dough is very easy to make, and you mix it by hand. If you have a pastry blender, making the dough will be a cinch. Keep in mind that it has to chill in the refrigerator for at least 30 minutes before you roll it out. These days I make the dough in the morning after the boys leave for school, toss it into the fridge and roll/fill the dough later in the afternoon.
The original recipe calls for deep-fat-frying the empanadas. I bake mine. I don't have a fryer and even if I did, I don't think I'd use it in our apartment. I'd be afraid the whole apartment would smell like fried food. I barely cook fish anymore because I have a really hard time getting the fish smell out of the apartment. We don't have a kitchen vent that vents to the outside making it difficult to cook anything really fragrant or anything that smokes as it cooks.
Anyway, you can fill these with anything you want. There are lots of recipes out there for spiced/seasoned meat fillings, vegetarian fillings, etc.
These do very well in a lunchbox. The boys (all but that one peanut-butter eater) love bringing these to school for lunch. Oh, if you're wondering whether their high schools have cafeterias that serve lunch, the answer is yes. Will our boys eat it? Nope. My husband makes four lunches every morning for the boys.
Empanada Dough
Recipe adapted slightly from Food Network

3 cups all-purpose flour, plus more for the work surface
1 tablespoon baking powder
2 teaspoons sugar
Pinch salt
1/2 cup vegetable shortening
1 egg
3/4 cup vegetable stock
1 egg white

For the empanada dough: Combine the flour, baking powder, sugar and salt in a large bowl. Cut in the vegetable shortening with a pastry blender or 2 knives until the mixture resembles coarse cornmeal.

In a separate bowl, beat the egg and then whisk in the stock. Add the egg mixture to the flour mixture and knead until a dough forms. Cover and refrigerate for 30 minutes.

Prepare whatever type of filling you want. All meat should be fully cooked when using it as an empanada filling'

Lightly flour a work surface and roll out the dough to 1/4 inch thick. Cut out 4-, 5- or 6-inch rounds, depending on how large you prefer. Add some filling to half of each empanada, leaving a border along the edge, and fold the dough over in half to enclose the filling. Fold the edges back onto themselves and use a fork to press and seal the edges closed. You can refrigerate the uncooked empanadas for up to 3 hours.

Preheat the oven to 350 degrees F. Whisk together the egg white and 1 teaspoon of water to create an egg wash. When the oven is preheated, put the empanadas on a parchment-lined baking sheet and brush them with the egg wash. Bake for 20 minutes, or until golden brown.

Yield: ~6-8 servings

One year ago: Curried Peas and Tofu
Two years ago: Rosemary Butter Cookies
Three years ago: Cinnamon Roll Bites
Four years ago: Pumpkin Pie Refrigerator Oatmeal
Five years ago: Toasted Corn, Cherry Tomato, and Edamame Salad
Six years ago: French Gougères 
Seven years ago: Roasted Potatoes
Eight years ago: Tuna Salad with Cannellini Beans

Print This Recipe