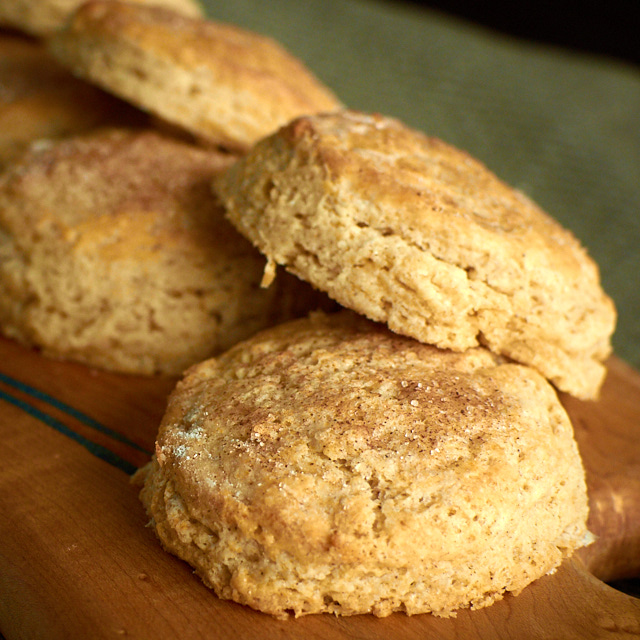 If you're looking for something different to make for breakfast or brunch, try these biscuits. They're wonderful hot out of the oven with butter.
The original recipe calls for adding 1/2 cup finely chopped pecans. I left them out because the boys don't love nuts in things, but I personally think they'd be a great addition. If you want to try adding pecans, they get folded in once the dough comes together.
Biscuits are not difficult to make, and it's nice that they only use one bowl. The next time you have overnight guests, give these a try.

Maple Cinnamon Biscuits
Recipe adapted ever so slightly from Taste of Home

2-1/2 cups all-purpose flour
4 tablespoons cinnamon-sugar**, divided
3 teaspoons baking powder
1/2 teaspoon baking soda
1/2 teaspoon salt
1/2 cup cold butter, cubed
1/2 cup buttermilk
1/2 cup maple syrup
2 tablespoons milk

**Cinnamon Sugar – mix 1/4 cup granulated sugar with 1 Tablespoon cinnamon

Preheat oven to 400° F.

In a large bowl, combine the flour, 3 tablespoons cinnamon-sugar, baking powder, baking soda and salt. Cut in butter (I used a pastry blender to do it) until mixture resembles coarse crumbs. Stir in buttermilk and maple syrup just until moistened.

Turn onto a floured surface; knead 8-10 times. Roll out to 1/2-in. thickness; cut with a floured 2-1/2-in. biscuit cutter.

Place 2 in. apart on an ungreased baking sheet. Brush with milk; sprinkle with remaining cinnamon-sugar.

Bake at 400° for 12-15 minutes or until golden brown. Serve warm.

Yield: ~12 biscuits

One year ago: Cabbage and Potato Gratin
Two years ago: Lemon Fusilli with Arugula
Three years ago: Broccoli, Cheddar and Wild Rice Casserole
Four years ago: Couscous with Peas and Mint
Five years ago: Soft Chocolate Cookies with Peanut Butter Frosting
Six years ago: Orange Pound Cake
Seven years ago: Nonna's Lemon Ricotta Biscuits
Eight years ago: Baked Sweet Potato "Fries"
Nine years ago: Braised Pork Chops