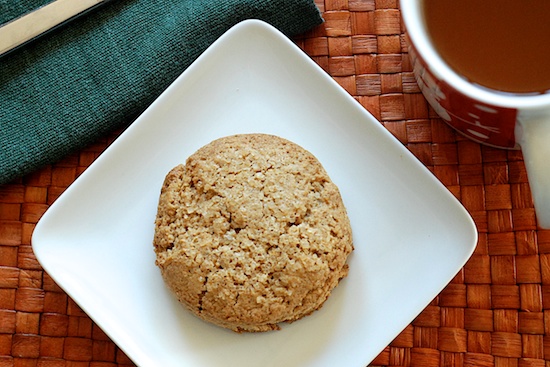 I got a wonderful cookbook for Christmas. It's the Tate's Bake Shop Cookbook by Kathleen King. It's right up my alley because I LOVE to bake. One recipe looks better than the next.
The other morning, I made a batch of ginger scones for the boys. Most of the boys liked them. One didn't like the color. He swore the scones were dark because I was trying to sneak something healthy into them, so I'm not even sure if he tried one. His loss.
The original recipe calls for 1/4 cup chopped, crystallized ginger, which I didn't have on hand, so I omitted it. The scones were great without it. With a little butter they're wonderful.
Ginger Scones
Recipe adapted from Tate's Bake Shop Cookbook by Kathleen King

2 cups all-purpose flour
1/2 cup firmly packed dark brown sugar
1 tablespoon baking powder
1 teaspoon cinnamon
3/4 teaspoon ground ginger
1/8 teaspoon cloves
1/8 teaspoon salt
6 tablespoons salted butter, chilled and cut into small pieces
1/4 cup half-and-half
1 large egg
1 1/2 teaspoons vanilla

1 large egg
2 tablespoons turbinado sugar (for topping)

Preheat the oven to 375 degrees. Line a cookie sheet with Silpat or parchment paper. Alternatively you can grease the cookie sheet.

Using a food processor, combine the flour, sugar, baking powder, cinnamon, ground ginger, cloves and salt.

Add the butter and process until the mixture resembles coarse meal.

Mix the half-and-half, egg and vanilla in a separate bowl. Add it to the flour mixture and process until the ingredients are just combined.

Turn the dough out onto a lightly floured surface. Roll it out until it is 1″ thick. Cut them into your desired shape. I use a round kitchen drinking glass that's about 2″ in diameter.

Place the scones 2″ apart on the cookie sheet. Brush them with an egg wash made by beating one egg with 1 tablespoon of water. Sprinkle the scones with turbinado sugar to give them a little crunch.

Bake them for 20 minutes or until they are golden brown around the edges. Serve warm.

Yield: ~ a dozen 2-inch scones

One year ago: Cherry Banana Muffins with White Chocolate Chips
Two years ago: Jacques' Chocolate Mudslide Cookies
Three years ago: Whole Wheat Cinnamon Oatmeal Chocolate Chip Cookies

Print This Recipe