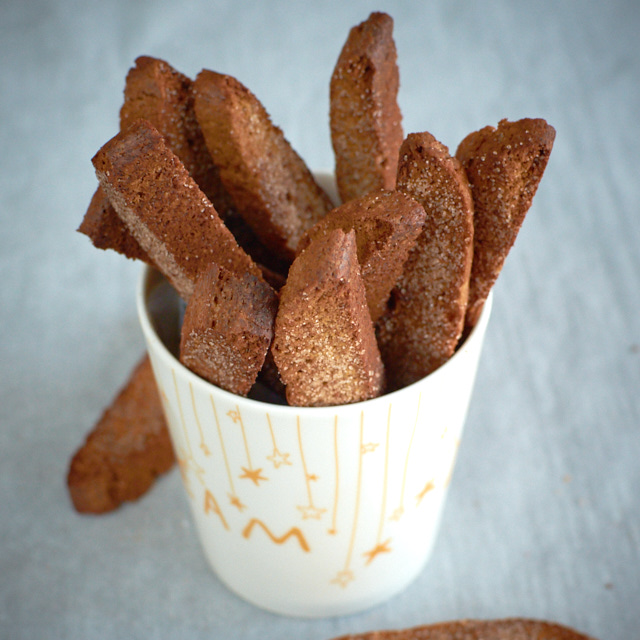 If you're a biscotti fan, these are perfect to make for the holidays. Your home is guaranteed to smell wonderful while they're baking. It's a perfect winter cookie to make on a freezing cold day like today in NYC. Biscotti are an Italian cookie that is typically dipped into a hot beverage before eating. I think these would be fantastic dipped in hot chocolate!
Biscotti are easy to make, but they're not the quickest cookie in the world because they need two rounds of baking, the first to cook the big logs of dough, then a second bake to dry out the individual cookies. When you make these, you'll cool the biscotti logs after the first baking and then you'll slice them and dip them in cinnamon sugar. Don't let the biscotti cool completely after the first baking or the cinnamon sugar mixture won't stick.
These cookies are great to give as gifts because in an airtight container, they say fresh for a couple of weeks.  These cookies got a double thumbs up from all of my boys.
Gingerbread Biscotti
Recipe from Smitten Kitchen

Cookie
2 cups plus 2 tablespoons all-purpose flour, plus extra for flouring hands
2 teaspoons baking powder
2 teaspoons ground cinnamon
2 teaspoons ground ginger
1/8 teaspoon ground cloves
A few grinds of black pepper
1/2 teaspoon sea salt (coarse sea salt will work if your granules are similar to those of kosher salt – you definitely don't want to use fine sea salt here)
1/2 cup dark brown sugar (light brown sugar can be used in a pinch(
1/2 cup granulated sugar
7 tablespoons unsalted butter, melted and cooled
2 large eggs
2 teaspoons vanilla extract
1 1/3 cups white or dark chocolate chunks (optional, but I used white chocolate chips and the results were delicious!)
1 large egg white

Cinnamon-sugar (optional, but delicious!)
1/3 cup granulated sugar
1 tablespoon ground cinnamon

Heat oven to 350°F. Line two large baking sheets with parchment paper or a silicon baking mat. In a large bowl, whisk together the dry ingredients — 2 cups plus 2 tablespoons flour, baking powder, spices, pepper and salt. In a medium bowl, whisk the granulated and brown sugars, melted butter, 2 large eggs and vanilla. Add wet ingredients along with any optional additions (white or dark chocolate) to dry mixture and stir to combine. The dough will be sticky.

Divide the dough in half. Using floured hands, transfer first half to the center of the prepared baking sheet and form it into a slightly flatted log about 11 inches by 2 1/2 inches. Do the same for the second half of the dough, forming the log in the center of the baking sheet. Whisk the egg white in a small bowl until a little foamy and loose. Using a pastry brush, brush it over the top and sides of the logs. This will give the tops of the cookies a nice sheen when baked.

Bake logs until golden brown all over, about 25 minutes. Switch the trays from top to bottom about halfway through the baking. While the biscotti are baking, mix the sugar and cinnamon together so the mixture is ready for the biscotti when it has cooled slightly. Pour the cinnamon sugar onto a dinner plate.

When baked, transfer trays to cooling rack and let them cool until they're lukewarm, about 15-20 minutes. Gently transfer each log to a cutting board. Using a sharp serrated knife and a gently sawing motion, cut logs on the diagonal into 1/2-inch wide slices. If using cinnamon-sugar, the biscotti must still be warm. Dip each side of the biscotti into the cinnamon sugar before putting them back on the baking sheet. If the biscotti has gotten cold, the cinnamon-sugar won't stick very well.

Arrange slices, a cut side down, on baking sheet(s). Bake for another 10 to 12 minutes, until golden underneath. Turn each biscotti over and bake for a final 6 to 8 minutes, until lightly bronzed all over. Let cool on rack.

These cookies can be kept for a couple of weeks in an air-tight container.

Yield: ~30 or so cookies

One year ago: Pumpkin Lentil Soup
Two years ago: Cigarettes Russes
Three years ago: Chocolate Ricotta Muffins
Four years ago: Chocolate Mint Crackle Cookies
Five years ago: Peppermint Cream Squares
Six years ago: Pork Tenderloin with Balsamic-Cranberry Sauce
Seven years ago: Clementine Vanilla-Bean Quick Bread
Eight years ago: Peanut Butter and Jam Jewels
Nine years ago: Lemon Bars

Print This Recipe