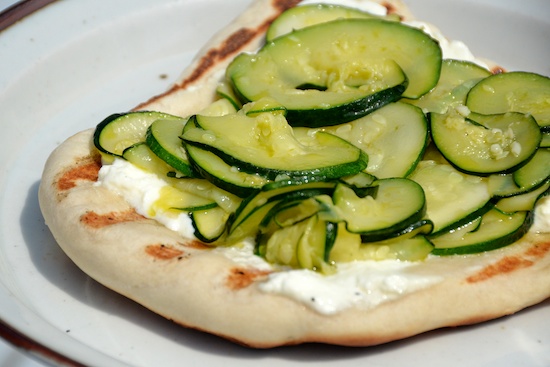 We had 8 kids for lunch the other day, and I felt like serving something more interesting than sandwiches, so I decided to make pizza on the grill. My sister Lauren makes it and raves about it so I figured I'd give it a shot as most kids love pizza. Well, most kids except mine. Only two of mine eat traditional pizza with cheese. A third son will eat pizza with eggs on it and the last one will only eat the plain pizza dough if not a speck of sauce or cheese has touched it.
This pizza dough was very easy to make. It rose nicely and was easy to shape. The real trick to making these pizzas is not burning them. You want to make sure the toppings are cooked (i.e. the cheese is melted to your liking) before the bottom burns. Like making pancakes, you may have to sacrifice the first pizza until you get the hang of it. If you're making traditional pizza with red sauce and mozzarella cheese, I recommend starting with a thin layer of cheese until you get a feel for how long it takes to melt, and what the best temperature is for your grill. Once you get the hang of these, they're easy and delicious and they make a fun lunch for kids.
As you can see from the picture, I chose to top my pizza with ricotta (fresh from the Shelter Island Farmer's Market) and sauteed zucchini. I sliced my zucchini thinly and sauteed it in a little olive oil and garlic until it was soft. It was incredible as a topping for the pizza. I much prefer it to red sauce and cheese. Several of the kids had traditional pizza with red sauce and cheese. Others made pepperoni pizza. The possibilities are endless.

Grilled California Pizzas
Recipe by Ina Garten

1 1/4 cups warm (100 to 110 degrees F) water
2 packages dry yeast
1 tablespoon honey
3 tablespoons good olive oil
4 cups all-purpose flour, plus extra for kneading
2 teaspoons kosher salt
Assorted toppings of your choice (tomato sauce, mozzarella cheese, ricotta cheese, garlic, onions, zucchini, etc.)

For the dough, combine the water, yeast, honey, and olive oil in the bowl of an electric mixer fitted with a dough hook. Add 3 cups flour, then the salt, and mix. While mixing, add 1 more cup of flour, or enough to make a soft dough. Knead the dough on low to medium speed for about 10 minutes until smooth, sprinkling it with flour, if necessary, to keep it from sticking to the bowl.

When the dough is ready, turn it out onto a floured board and knead by hand a dozen times. It should be smooth and elastic. Place the dough in a well-oiled bowl and turn it several times to cover it lightly with oil. Cover the bowl with a kitchen towel. Allow the dough to rest at room temperature for 30 minutes.

Divide the dough into 6 equal parts and roll each one into a smooth ball. Place the balls on a baking sheet and cover them with a damp towel. Allow the dough to rest for 10 minutes. Use immediately, or refrigerate for up to 4 hours.

If you've chilled the dough, take it out of the refrigerator approximately 30 minutes ahead to let it come to room temperature. Roll and stretch each ball into a rough 8-inch circle and place them all on baking sheets sprinkled with cornmeal. (You will be able to fit 2 pizzas on each 18 by 13-inch baking sheet.)

Light your grill and wait until it's hot.

Place the pizzas directly onto the grill and cook on 1 side for 1 minute. Turn the pizzas over and brush with olive oil or garlic oil.

Top the pizzas with any toppings you wish. Drizzle each pizza with 1 tablespoon of olive oil and season with salt and pepper. Put the lid on your grill and cook for 5 minutes more, until the crust is crisp and the toppings are cooked.

Yield: 6 individual pizzas

Two years ago: Scalloped Tomatoes

Print This Recipe