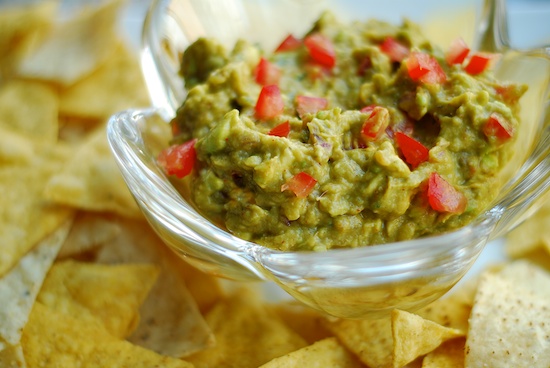 I love avocados. Never used to like them as a kid, but they've really grown on me in the last couple of years. I could make a whole dinner for myself out of guacamole and corn chips, and occasionally I do.
Before last night, I had never made guacamole before, and I'm not sure why. It's really easy and it tastes great with all of its fresh ingredients mashed together with a fork. There are many guacamole recipes out there, and I loosely based mine on a recipe by Mark Bittman, but used the ingredients that I had on hand.
My husband and I split the bowl of guacamole as an appetizer before dinner last night.   I couldn't get the boys to try it.  They didn't like the color, nor did they like the chunks of tomatoes in it.   Definitely their loss.    Hopefully one day they'll come around like I did.
As I was searching for a guacamole recipe, I found a great tip.   If you leave the avocado seeds in the guacamole, and cover it with plastic wrap until you're ready to serve it, they will help to keep the guacamole from turning brown.   We ate ours too quickly, so I didn't get to try it, but I'll definitely remember to try it next time.
The nice thing about guacamole is that you can play around with the ingredients. If you don't have lemon juice on hand, use lime juice. If you don't have a fresh tomato, skip it. If you have cilantro, you can use it as a garnish, or you can chop some and throw it into the guacamole.
Avocados (or alligator pears, as they're sometimes called) are quite a healthy fruit.   I didn't realize that an avocado was a fruit until I started to read about it.   Anyway, the bulk of the calories in an avocado come from fat, but it's monounsaturated, so it's a good fat.  Avocados also contain fiber, potassium, B-vitamins, vitamin E and folic acid.   Because they're so healthy, I tried to blend one into a chocolate milkshake for the boys.   I couldn't fool them.
Guacamole

2 ripe avocados
1/4 cup finely chopped red onion
1/4  teaspoon crushed garlic
1/2 teaspoon chili powder
salt and pepper to taste
1/4 cup finely chopped ripe tomato
1 jalapeno pepper, finely chopped
1 Tablespoon lemon juice
cilantro for garnish

Cut the avocados in half, remove and reserve the pits (if you're not going to eat the guacamole right away).  Scoop out the avocado flesh and mash it in a bowl with the back of a fork.   Mix in the remaining ingredients and mix well.   Garnish with cilantro leaves or chopped tomato.   Serve immediately.

If not serving immediately, you can try one of two things.  You can put the avocado pits back in the guacamole and cover it with plastic wrap.   Refrigerate up to 4 hours or until ready to use.  Alternatively, you can cover your guacamole with plastic wrap, pushing the plastic wrap onto the guacamole while ensuring that there are no air bubbles.   Refrigerate.   This should also keep the guacamole from turning brown.

Yield:  2- 4 servings, depending upon how hungry you are

Print This Recipe