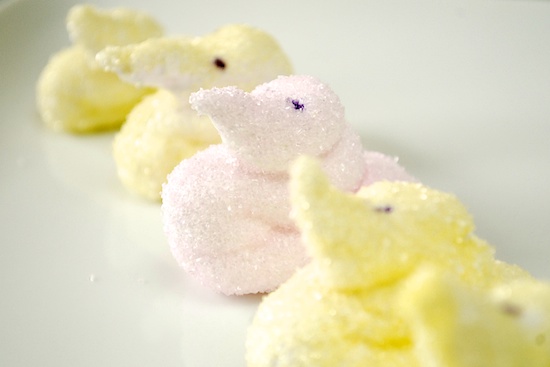 It's almost Easter, and one of our boys' favorite treats at this time of year is Marshmallow Peeps. The boys like to eat them, and they also like to have Peep wars in the microwave. The other day we decided to try to make some peeps from scratch. There are lots of recipes out there, but we decided to try Martha Stewart's.
The recipe is very easy to make if you have a candy thermometer, a stand mixer and a pastry bag/tip.
Our boys LOVED these. They would have been happy to eat the whole batch in one sitting. I enjoyed them, but they are a little too sweet for me. The next time I make these, I'm going to try to add a quarter teaspoon of vanilla.
If you want to learn how to pipe the marshmallow into peep shapes, I recommend this site.   We made some bunny shapes as well, but our peeps were cuter. One of my sons actually piped most of the peeps in the photo. He had a great time making them. It was a really fun Easter activity.
Homemade Marshmallow Peeps
Recipe adapted slightly from Martha Stewart

1 unflavored gelatin (2 1/2 teaspoons)
1/3 cup cold water, for gelatin, plus 1/4 cup for syrup
1 cup sugar
colored sugars for covering Peeps
edible markers for eyes on Peeps/bunnies

In the bowl of an electric mixer, sprinkle gelatin over 1/3 cup cold water. Allow gelatin to soften, about 5 minutes.

Place colored sugars into shallow bowls and set aside.

In a small saucepan, combine 1/4 cup water and sugar, and stir over medium-high heat until sugar is dissolved. Stop stirring, and place a candy thermometer into sugar water; wipe sides of pan with a wet brush if sugar crystals have splattered up. Boil sugar until temperature reaches the soft-ball stage (238 degrees). Remove syrup from heat; add to softened gelatin. Using the whisk attachment of an electric mixer, beat slowly at first, to allow the mixture to cool a bit, then beat on medium high until soft peaks form and the marshmallow mixture holds shape, about 8 to 10 minutes.

Transfer marshmallow mixture to a large (14-inch) pastry bag fitted with a 1/2 inch (No. 11 Ateco) tip, and use immediately. Pipe shapes into bowls of sugar, one at a time. Once piped, use a spoon to cover the Peep completely. Once covered in sugar, remove carefully with a spoon or spatula, and place on a piece of parchment paper to set.  Use an edible marker to make eyes on the Peeps.


Yield: 1 1/2 cups of marshmallow

Print This Recipe