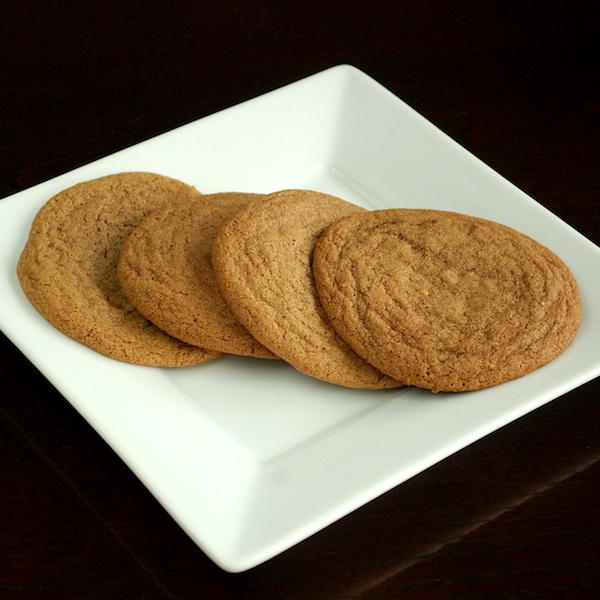 These cookies don't look particularly spectacular, but I found their taste to be unbelievably delicious. I have never baked cookies using coconut oil before, and I'm now hooked. The oil provides a very subtle coconut flavor that goes very well with the molasses and dark brown sugar.
These cookies are soft. Pleasantly so. I was always a fan of Entenmann's chocolate chip cookies because they were always soft and chewy. No matter how long they had been left sitting on the supermarket shelves, you could always count on biting into a nice, soft cookie. Entenmann's put a lot of junk into their cookies. Their cookies contain quite a few ingredients that I bet you don't have in your own kitchen, and which I'm sure you don't want to include in your own baking. These cookies on the other hand, remain soft with regular ingredients from your pantry. I love that.
This is another cookie recipe where you won't have immediate gratification. The cookie dough has to chill for at least two hours, and ideally for longer than that. If it doesn't, the cookies will spread like mine did. Of course, I didn't read the recipe in its entirety and made these cookies just before company arrived, so I put my dough in the freezer for 10-15 minutes and it wasn't quite enough time. The cookies still tasted delicious, but they were quite thin.
The directions say that the cookies should bake for 8 – 10 minutes. I found that 9 minutes was a good time for mine. I took my first tray out after 8 minutes and found them to be a little underdone. Delicious, but underdone. That extra minute did the trick for me. These cookies will be made again. I just bought some more coconut oil so I can bake another batch.
Soft Batch Dark Brown Sugar Coconut Oil Cookies
Recipe from Averie Cooks

1/2 cup coconut oil, softened (softened to the consistency of soft butter)
1 cup dark brown sugar, packed
1 large egg
2 tablespoons vanilla extract (yes tablespoons, not teaspoons), or to taste
1 tablespoon unsulphered mild to medium molasses
1 3/4 cup all-purpose flour
2 teaspoons corn starch
1 teaspoon baking soda
1/4 teaspoon salt, optional and to taste

In the bowl of a stand mixer fitted with the paddle attachment, combine the coconut oil, egg, sugar and beat on medium-high speed to cream until light and fluffy, 4 to 5 minutes. Note – Coconut oil should be the consistency of soft butter like you'd use to cream with sugar and eggs in traditional cookies.

Stop, scrape the sides of the bowl, add the vanilla and molasses, and beat to incorporate, 1 to 2 minutes. Add the flour, corn starch, baking soda, optional salt, and mix until just combined, about 1 minute.

Using a medium cookie scoop, form mounds that are 2 heaping tablespoons in size; or divide dough into approximately 15 to 16 equal-sized pieces. Place dough mounds on a large plate, and slightly flatten each mound. Very important to get the dough mounds in the exact shape you want to bake them in because after chilling, flattening or re-shaping them is very difficult. Cover and refrigerate for at least 2 hours; up to 5 days. If you don't chill the dough enough,  the cookies will really spread.

Preheat oven to 350°F, line a baking sheet with a Silpat baking mat, parchment, or spray with cooking spray. Place dough on baking sheet, spaced at least 2 inches apart. Bake for 8 to 10 minutes, or until tops have just set, even if slightly undercooked, pale, and glossy in the center. They firm up as they cool.

Allow cookies to cool on the baking sheet for 5 to 10 minutes before moving. Store cookies in an airtight container at room temperature for up to 1 week, or in the freezer for up to 3 months.

Yield: ~16 cookies

One year ago: Kale with Bacon and Cannellini Beans
Two years ago: Vegetable Parmigiana
Three years ago: The Ultimate Chocolate Cupcakes
Four years ago: Snickerdoodle Blondies

Print This Recipe