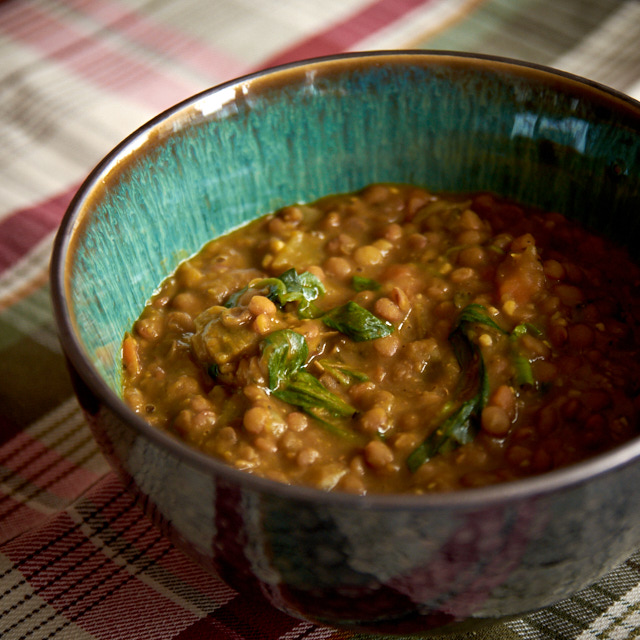 The temperature is starting to drop here in NYC, and when the cold weather arrives there's nothing better than a warm bowl of soup. Our vegetarian son is slowly but surely working his magic on us, so we're eating more vegetarian dishes now than we ever have before. We haven't completely given up meat, but its consumption is slowing down in our house. Unfortunately, our vegetarian son had no interest in trying this soup. Neither did any of the other boys. All the more for us.

If you have an instant pot, this recipe is very easy to make. The most time consuming step is chopping the carrots, onions and celery but once they're chopped, the instant pot will sauté them in a snap.

This is a thick and hearty soup, full of heart-healthy lentils, perfect for lunch on a cold day.


Instant Pot Lentil and Spinach Soup
Recipe slightly modified from Kitchen Treaty

2 teaspoons olive oil
1/2 medium yellow onion, diced (about 1 cup)
2 medium carrots, peeled and diced (about 1 cup)
1 medium stalk celery, diced (about 1/2 cup)
4 medium cloves garlic, minced (about 2 tablespoons)
1 generous teaspoon ground cumin
1 teaspoon ground turmeric
1 teaspoon dried thyme
1/2 teaspoon kosher salt (or more, to taste)
1/4 teaspoon freshly ground black pepper (or more, to taste)
1 cup dry brown lentils, rinsed well in cold water
4 cups low-sodium vegetable broth
8 ounces (about 6 cups) baby spinach

Hit "Saute" button on Instant Pot. Add oil. When hot, add the onions, carrots, and celery. Saute, stirring occasionally, until tender, about 5 minutes. Add the garlic, cumin, turmeric, thyme, 1 teaspoon salt, and 1/4 teaspoon pepper and cook, stirring constantly, for one minute.

Add the lentils and pour in the broth. Stir.

Place the lid on the Instant Pot and make sure the release valve is in the "sealing" position. Press the "Manual" button and set the timer at 12 minutes.

The Instant Pot will warm up for about 10 minutes and then start cooking. After the 12 minutes is up, quick-release by flipping the release valve to "venting" (a little bit at a time at first).

Once venting is complete, remove the lid of the Instant Pot. Stir in the spinach. Taste and add additional salt and pepper if desired. Serve.

Keeps in the refrigerator for about 3 days. Freezes well too!

Yield: 4 servings



One year ago: Chocolate Nut Zucchini Bread
Two years ago: No Bake Healthy Breakfast Cookies
Three years ago: Salted Caramel and Chocolate Rice Krispies Squares
Four years ago: Soft Snickerdoodles
Five years ago: Chocolate Sugar Cookies
Six years ago: Ranch Oyster Crackers
Seven years ago: White Chocolate Cranberry Blondies
Eight years ago: Cornmeal-Crusted Tofu
Nine years ago: Five-Treasure Fried Rice
Ten years ago: Cream Biscuits
Eleven years ago: Another Delicious Blueberry Muffin

Print This Recipe