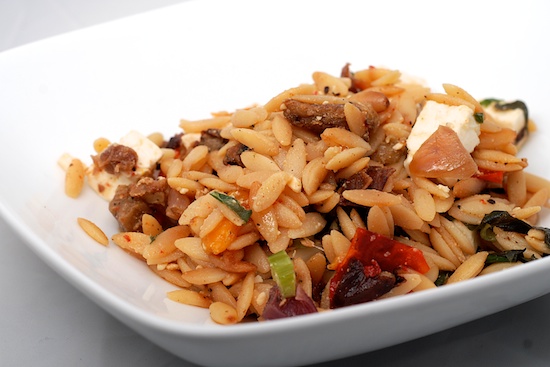 I have made this twice recently for dinner parties and everyone loved it. The first time I made it, my girlfriend asked if she could take the leftovers home, she liked it so much. This recipe is great for a crowd. It's easy to make, and it's also easy to double.
This is wonderful as a leftover because the flavors meld overnight and it's actually tastier the next day. It's a perfect lunch on its own because it's fairly light, yet it has some good protein from the feta and lots of incredibly delicious roasted vegetables. It's also nice as a vegetarian entree. The next time I make this, I think I'm going to lighten up on the feta a bit. For my taste, I think 1/2 pound will be sufficient.
If you want to make this ahead of time (like a day ahead), assemble everything but the scallions, pine nuts, feta and basil. Toss those in just before you serve the salad. Don't forget to bring the salad to room temperature before serving. I have had it cold and at room temperature, and room temperature is best.

Orzo with Roasted Vegetables
Recipe from Barefoot Contessa Parties! by Ina Garten

1 small eggplant, peeled and 3/4-inch diced
1 red bell pepper, 1-inch diced
1 yellow bell pepper, 1-inch diced
1 red onion, peeled and 1-inch diced
2 garlic cloves, minced
1/3 cup good olive oil
1 1/2 teaspoons kosher salt
1/2 teaspoon freshly ground black pepper
1/2 pound orzo or rice-shaped pasta

For the dressing:

1/3 cup freshly squeezed lemon juice (2 lemons)
1/3 cup good olive oil
1 teaspoon kosher salt
1/2 teaspoon freshly ground black pepper

Just before serving:

4 scallions, minced (white and green parts)
1/4 cup pignolis (pine nuts), toasted
3/4 pound good feta, 1/2-inch diced (not crumbled)
15 fresh basil leaves,  julienned

Preheat the oven to 425 degrees F.

Toss the eggplant, bell peppers, onion, and garlic with the olive oil, salt, and pepper on a large sheet pan. Roast for 40 minutes, until browned, turning once with a spatula.

Meanwhile, cook the orzo in boiling salted water for 7 to 9 minutes, until tender. Drain and transfer to a large serving bowl. Add the roasted vegetables to the pasta, scraping all the liquid and seasonings from the roasting pan into the pasta bowl.

For the dressing, combine the lemon juice, olive oil, salt, and pepper and pour on the pasta and vegetables. Toss. Let cool to room temperature, then add the scallions, pine nuts, feta, and basil. Check the seasonings, and serve at room temperature.

Yield: 6 servings

Print This Recipe