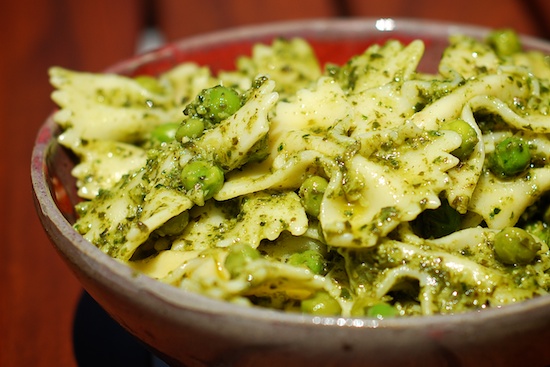 This is a very nice pasta salad for the summer. During the summer, I love to make dishes that can be served cold.   Who wants to be slaving over the stove when it's so hot outside?   I love this recipe because it comes together in no time, especially if you're using pre-made pesto.
As written, this recipe makes a LOT!    Next time I'll cut the recipe in half, unless I'm bringing it to a pot-luck affair.   The recipe calls for two different types of pasta, but I couldn't find fusilli at my local supermarket, so I only used bow-tie pasta.      Don't skimp on the salt when you make this.   I find that Ina Garten's recipes are usually very salt-heavy, so I always start with a fraction of the salt called for.    In this case, I underestimated.    I used about 1/4 – 1/2 teaspoon of salt and it definitely wasn't enough.  I'll use the whole 3/4  teaspoon next time.
This recipe makes great leftovers.   I actually thought it was a tiny bit better the next day.   If you have to bring something to a pot-luck dinner or barbecue, this is the perfect dish to make the night before.
Pasta, Pesto and Peas
Recipe from Ina Garten

3/4 pound fusilli pasta
3/4 pound bow tie pasta
1/4 cup good olive oil
1 1/2 cups pesto (packaged)
1 (10-ounce) package frozen chopped spinach, defrosted and squeezed dry
3 tablespoons freshly squeezed lemon juice
1 1/4 cups good mayonnaise
1/2 cup freshly grated Parmesan
1 1/2 cups frozen peas, defrosted
1/3 cup pignoli (pine nuts)
3/4 teaspoon kosher salt
3/4 teaspoon freshly ground black pepper

Cook the fusilli and bow ties separately in a large pot of boiling salted water for 10 to 12 minutes until each pasta is al dente. Drain and toss into a bowl with the olive oil. Cool to room temperature.

In the bowl of a food processor fitted with a steel blade, puree the pesto, spinach, and lemon juice. Add the mayonnaise and puree. Add the pesto mixture to the cooled pasta and then add the Parmesan, peas, pignoli, salt, and pepper. Mix well, season to taste, and serve at room temperature.

Yield: 12 servings

Print This Recipe